·
Mourinho & Cassano!!
Discussion Starter
·
#1
·
Inter fans only.
Firdaus, thanks for putting the poll up, and lets see who voted for what option.
This question is not whether you want it- Of course we want it. But whether you would say- Great first season. Lets move on. Or: What a waste of a season. We need to change. What a lousy trophy.
Personally, I think this is a great step to build confidence and good will in the squad. In Mancio's first season. Remember guys- WHEN MANCIO came, many of you preached- First season. No one can do it in one season. Give him time. And yet the same lot of you complain and want him fired (including myself, I'm in this category) when he made it to CL quarters and is third in the Serie A. And really, only one team- Milan- hampered our progress in both Championships, though the draws (for god sakes, not even losses) in the Serie A really killed us in the beginning.
And so I think this is a must-win for our squad. But not a necessary one.
Must-win in the sense of building from scratch, a stepping stone. We have taken the TIM Trophy, and maybe the Coppa is one step up. Maybe next year, the Serie A if we are lucky. Then the year after the CL. THen maybe both.
But until then, we have to build upon our squad and coach and do it one step at a time. Only get rid of players that we hardly use. Keep the coach. Keep the structure. Let us have a coach and team for once that want each other and have decided to keep each other. Don't stick a team and a coach together. ANd build upon our success.
In that way, the Coppa is a very important goal. The Coppa is a very nice step indeed, and remember- it is very attainable. Very attainable indeed. We must concentrate and focus on it with all our might, b/c if Cagliari, an excellent attacking team, won't kill us Roma will. A mighty Roma wanting to make up for a bad season of turmoil. Now is the time to act and be calm.
In Mancio's hands we are.
FORZA INTER
CURVA NORD
VIKING INTER
BOYS ROMA
IRRIDICUBILI
INTER ULTRAS
ADRIANO GOL CLUB
PLUS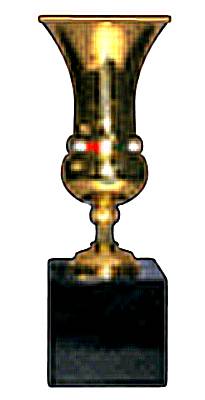 EQUALS