The beginning of another qualifying campaign is just around the corner, our first match in the UEFA Nations League is this Friday away to Romania, and then 3 days later a home match against Lithuania. We've come close to qualifying for a major tournament several times, but have always fallen just short. Hopefully Tumbakovic can get the job done this time.
Several big exclusions for the match against Romania, including captain Jovetic, Marusic, Vesovic, Djordjevic and Jankovic. Nikola Vukcevic, who recently made a move to Spanish side Levante, is not totally fit either, but will play. Beciraj is currently without a club, but was called up anyway.
Bata Mirkovic is no longer assistant coach as he took the head coaching job at Partizan. I'm hoping for 4 points from these first 2 games, but it looks unlikely due to all the injuries.
Evo ko se sve nalazi na spisku selektora Tumbakovića

Selektor seniorske reprezentacije Crne Gore Ljubiša Tumbaković saopštio je spisak igrača za utakmice prvog i drugog kola UEFA Lige nacija sa najboljim selekcijama Rumunije i Litvanije.
Na spisku selektora Tumbakovića nalaze se
golmani:
Danijel Petković (Lorijen, Francuska), Milan Mijatović (Budućnost), Damir Ljuljanović (OFK Titograd);
odbrambeni igrači:
Stefan Savić (Atletiko Madrid, Španija), Filip Stojković (Crvena zvezda, Srbija), Adam Marušić (Lacio, Italija), Žarko Tomašević (Ostende, Belgija), Marko Simić (Pahtakor, Uzbekistan), Boris Kopitović (Čukarički, Srbija), Risto Radunović (Astra, Rumunija);
vezni igrači:
Marko Janković (Partizan, Srbija), Nikola Vukčević (Levante, Španija), Marko Vešović (Legija Vašrava, Poljska), Aleksandar Šćekić (Partizan, Srbija), Nebojša Kosović (Partizan, Srbija), Mirko Ivanić (BATE Borisov, Bjelorusija), Vukan Savićević (Slovan Bratislava, Slovačka), Vladimir Jovović (Jablonec, Češka), Sead Hakšabanović (Malaga, Španija), Aleksandar Boljević (Vasland Beveren, Belgija), Luka Mirković (Budućnost), Darko Zorić (Čukarički, Srbija), Deni Hočko (Famalikao, Portugal);
napadači:
Stevan Jovetić (Monako, Francuska), Fatos Beqiraj (Mehelen, Belgija), Stefan Mugoša (Inčon, Južna Koreja) i Luka Đorđević (Arsenal Tula, Rusija).
– Većina igrača sa spiska za utakmice Rumunijom i Litvanijom su dio reprezentaije posljednje dvije i po godine i nema nekih većih iznenađenja kada je spisak u pitanju. Većina pozvanih igrača ima iskustva igranja prijateljskih i takmičarskih mečeva na reprezentativnom nivou. Konstantno pratimo sve igrače i učinak u klubovima za koje nastupaju i imamo uvid i kontrolu u njihovu forma. Shvatamo da je došlo vrijeme da ostvarimo rezultat koji se već dugo vremena očekuje i imaćemo priliku da to uradimo kroz Ligu nacija ili kvalfikacije za Evropsko prvenstvo. Naravno, trudićemo se da to uradimo već u prvom takmičenju koje nas očekuje, a to je Liga nacija, rekao je selektor Tumbaković.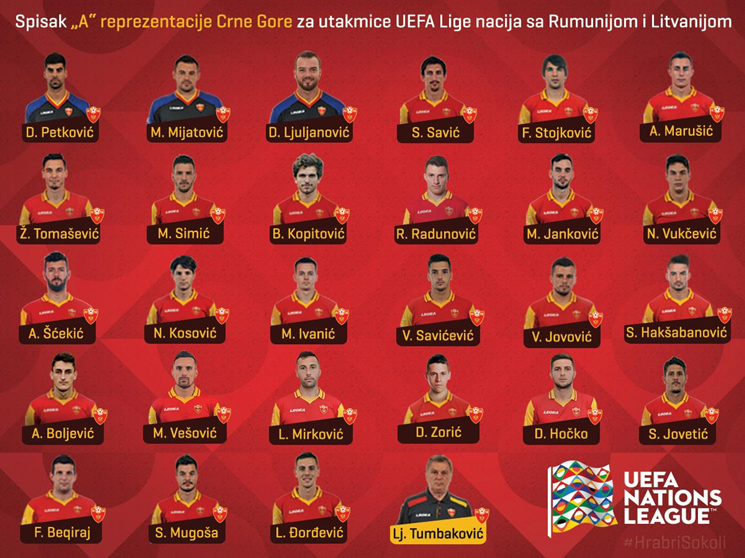 Iskusni stručnjak u prvom takmičarskom meču na klupi "hrabrih sokola" za protivnika je imao selekciju Rumunije. Dvije godine kasnije, reprezentacija Crne Gore novo takmičenje započinje duelom sa "trikolorima" u Ploeštiju…
– Prvi takmičarski meč za mene kao selektora bio je protiv Rumunije, tada u Klužu. Protiv Rumunije sada svi zajedno počinjemo novo takmičenje. Biće to duel sa ekipom koja je dosta drugačija u odnosu na onu sa kojom smo igrali u kvalifkacijama za Svjetsko prvenstvo. Napravili su smjenu u stručnom štabu i selekcija igra mnogo poletnije od dolaska Kozmina Kontre na mjesto selektora. Pobijedili su na četiri od posljednjih šest utakmica, izgledali vrlo poletno na terenu i daleko konkretnije nego što je bio slučaj ranije. Imaju mlade, vrijedne, ambiciozne i talentovane igrače i očekuje nas veoma težak duel u prvom kolu protiv njih, dodao je selektor "sokola".
Stručni štab naše selekcije analizirao je i učinak selekcije Litvanije, sa kojom će "sokoli" odmjeriti snage u drugom kolu UEFA Lige nacija.
– Skautirali smo i Litvance ali, još uvijek, predstavljaju blagu nepoznanicu. Većina igrača nastupa u domaćoj ligi dok njihovi najbolji igrači brane boje klubova iz bivših republika Sovjetskog Saveza. Prikazuju različit karakter tokom utakmice, to je nešto što je prisutno na svim njihovim mečevima… Nemaju kvalitet kao ostale selekcije u grupi ali to ne znači da neće tražiti šansu u svakom od šest susreta koje će odigrati u ovom takmičenju, kaže Tumbaković.
Selektor Tumbajović dodaje da će nastup Vešovića i Mirkovića u prvim duelima UEFA Lige nacija zavisiti od procjene medicinskog tima našeg nacionalnog tima.
– Vešović je propustio dvije prethodne utakmice zbog povrede, dok je Luka Mirković zadobio povredu na ligaškoj utakmici u subotu. Njih dvojica dolaze na pripreme gdje će ih pregledati naš medicinski tim. Nakon obavljenih pregleda i dobijenih nalaza vidjećemo da li ćemo moći da računamo na njih, zaključio je Tumbaković.
Utakmica Rumunija – Crna Gora igra se 7. septembra u Ploeštiju na stadionu Ilia Oane sa početkom u 21:45 časova u po lokalnom vremenu (20:45 CET). Tri dana kasnije, 10. septembra, "hrabri sokoli" dočekuju nacionalni tim Litvanije. Duel na Gradskom stadionu počinje u 20:45 časova.
Početak prirpema "hrabrih sokola" zakazan je za nedjelju, 2. septembar u 18:00 časova.
https://cg-fudbal.com/evo-ko-se-sve-nalazi-na-spisku-selektora-tumbakovica/
Otpao i Marušić! Vukčević: U Rumuniji da izbjegnemo poraz
Tri dana pred start Lige nacija lista igrača fudbalske reprezentacije koji neće moći da nastupe je šira za jedno ime – Adama Marušića, koji definitivno neće igrati ni protiv Rumunije u Ploeštiju u petak, kao ni sa Litvanijom tri dana kasnije pod Goricom.
Pored Marušića, nema ni Stevana Jovetića i Marka Vešovića, povrijeđen je i Luka Đorđević, dok će Marko Janković sigurno propustiti prvu utakmicu, a pod znakom pitanja je i za drugu… Problemi se, dakle, samo nagomilavaju.
"Iskreno, više ni ne znam koji je ovo put da se dešavaju takve stvari. Na neki način smo i navikli da nismo kompletni, ali koliko god da nas ima, moramo da damo sve što imamo. Ja sam srećan što smo se nakon pola godine opet okupili, što ćemo opet igrati. Dobro je i što su sada na programu takmičarske utakmice, sve se boduje i nema razlike. Biće teško bez glavnih igrača, ali u našem pristupu se ništa ne mijenja", poručio je vezista Nikola Vukčević.
Ambicije u ovakom stanju teško mogu da budu najveće, ali Crna Gora nema mnogo izbora, jer poraz nikada nije opcija.
"Ambicije jesu drugačije. Jovetić je naš glavni igrač, Vešović, Marušić…, svi su bitni, jer nam baza nije velika da bismo lako nadomjestili bilo čiji izostanak. Međutim, moramo da razmišljamo pozitivno, da budemo spremni da jurimo dobar rezultat", dodaje vezista "hrabrih sokola".
A dobar rezultat bi bio i remi, poručuje nova akvicija španskog Levantea.
"U Rumuniju idemo da ne izgubimo, to je glavni cilj. Naravno, još bi bilo bolje ako pobijedimo. Igrali smo sa Rumunima, imamo dobar skor protiv njih iz prošlih kvalifikacija, ali sada je mnogo toga drugačije, a ni mi nismo kompletni. Nije lako, ali vjerujem da ćemo ostvariti dobar rezultat."
Vukčević je nedavno napravio fantastičan transfer – u Levante je stigao iz portugalske Brage za 8,9 miliona eura. To je i najveći transfer u istoriji kluba iz Valensije, ali Vukčević i dalje čeka na prve minute u dresu novog kluba.
"Promijenio sam sredinu nakon pet godina. Zadovoljan sam izborom novog kluba, iako je bilo još ponuda iz drugih šampionata. Nisam još debitovao, ali to nije iz razloga što nemam kvalitet, jer sama činjenica da su me platili toliko koliko jesu, te da je to najvećin transfer u istoriji Levantea, govori koliko ljudi iz kluba vjeruju u mene. Ali, imao sam poteškoće u Bragi tokom priprema, nisam odradio taj dio kako treba, jer nisam bio mislima u klubu, već negdje drugdje. Želio sam da idem i sad plaćan tu cijenu, ali se iz sedmice u u sedmicu osjećam sve bolje", istakao je Vukčević.
I za njega je, međutim, pitanje koliko može da bude na traženom nivou s obzirom na to da nekoliko mjeseci nije odigrao takmičarski meč. Isti problem ima i Fatos Bećiraj, koji je prošle sedmice raskinuo ugovor sa belgijskim Mehelenom.
"Ne mogu da kažem da sam sto odsto spreman, ali uvijek za reprezentaciju dajem sve što mogu. Ako je to 80 odsto, onda dam toliko. Mislim da će sve biti kako treba", zaključio je 26-godišnji Vukčević.
Sa seniorskom timom večeras treniraju i članovi mlade reprezentacije Balša Banović i Luka Malešević, ali će oni već od sjutra opet biti na raspololaganju selektoru U21 ekipe Mojašu Radonjiću.
http://reprezentacija.me/otpao-i-marusic-vukcevic-u-rumuniji-da-izbjegnemo-poraz/