Discussion Starter
·
#1
·
VS.

Looking for revenge? Both the
home match
and
away match
last year are kind of highlights in the history of Rosenborg - especially the latter.
There is however an opinion both among Rosenborg supporters and other Norwegians that RBK met a Valencia team totally out of shape. This I would say is wrong. Valencia were unbeaten in the league (6-2-0) before travelling to Trondheim, and were one point behind of Real Marid and one point in front of Barcelona. It was after (or during?) the two losses against Rosenborg their bad winter began.
On Thursday Rosenborg need at least one point, while hoping Club Brugge don't beat St. Etienne.
My biggest concern in the moment are our off-season stats:
06.12.95:
Blackburn - Rosenborg 4-1
04.12.96:
AC Milan - Rosenborg 1-2
05.03.97:
Rosenborg - Juventus 1-1
19.03.97:
Juventus - Rosenborg 2-0
10.12.97: Olympiakos - Rosenborg 2-2
09.12.98: Juventus - Rosenborg 2-0
07.12.99: Real Madrid - Rosenborg 3-1
29.02.00: Dinamo Kiev - Rosenborg 2-1
08.03.00: Rosenborg - Dinamo Kiev 1-2
14.03.00: Bayern München - Rosenborg 2-1
22.03.00: Rosenborg - Real Madrid 0-1
07.12.00: Rosenborg - Alavés 1-3 (UEFA Cup)
26.02.04: Benfica - Rosenborg 1-0 (UEFA Cup)
03.03.04: Rosenborg - Benfica 2-1 (UEFA Cup)
07.12.04: Arsenal - Rosenborg 5-1
06.12.05: Lyon - Rosenborg 2-1
15.02.06:
Rosenborg - Zenit St. Petersburg 0-2
23.02.06: Zenit St. Petersburg - Rosenborg 2-1
28.11.07:
Rosenborg - Chelsea 0-4
11.12.07: Schalke - Rosenborg 3-1
14.02.08: Rosenborg - Fiorentina 0-1 (UEFA Cup)
21.02.08: Fiorentina - Rosenborg 2-1 (UEFA Cup)
2-2-18 in 22 matches and 18-46 in goal difference don't scare anyone...
(2000-2002 there were two group stages, and Rosenborg finished in the beginning of November.)
The Norwegian league finished 2 November, and friendlies
home against Molde (2-1 win)
last week and away against Manchester United reserves on Sunday are the only two matches since the 0-3 loss in St. Etienne.
Erik Hamrén
Despite our performances in the domestic league have been bad the last two seasons (5th both this year and in 2007), I don't think there have been more optimism around Rosenborg since our great 2003 season.
The main reason for this, is the big trust in our new coach
Erik Hamrén
. The Swede made Aalborg champions in Denmark last season, and seems to have some really good ideas of how to take Rosenborg back to the top.
In deep contrast to most of the other 6(!) head coaches succeeding
legandary Nils Arne Eggen
, who retired in 2002, Hamrén has good experience from other big clubs after Scandinavian standards, e.g. AIK. Experience is essential for being respected and "untouchable" in a club with stronge traditions like Rosenborg.
Unstable youngsters
Our biggest challenge is the low average age of the players; just around 23 years in some matches this season. Our performances and results are far to unstable due to the lack of experience. The two excellent wins against Valencia in the Champions League proved the potential of our young team. Meanwhile we touched the bottom when losing against 3rd level club Kristiansund in the domestic cup this summer.
Seven years ago RBK were ranked as the 35th best on the
UEFA club ranking
. The club wants to
repeat history
, but it is far to go.
After spending most of the prize monies from our 10 first seasons in the Champions League (1995-2002, 2004 and 2005 -watch
video highlights
!) on rebuilding our stadium and signing expensive, older players, Rosenborg now (again) have begun prioritizing developing own, local players.
Local players
Our two reserve/U19 teams, RBK2 and RBK3, are playing in regular senior leagues, Norwegian 2nd and 3rd division, and are packed with players representing Norway on U15-U19 levels. When
Rosenborg knocked AC Milan out
of the Champions League in 1996, 9 of 11 players in the starting line-up were from the Trondheim area. This is not likely to happen again in a globalized world of football, but hopefully the basis of future teams will be local players with a big heart for Rosenborg.
On the first team, Per Ciljan Skjelbred and Alexander Tettey, are well established on our midfield, and they are looked upon as the team's future "grand old men".
New signings
Other young players like Vadim Demidov (defender/midfielder), Kris Stadsgaard (defender), Mikael Lustig (defender) and Rune Jarstein (goalkeeper) were signed this winter and summer, and they have already proved their potential.
Our young Ivorian players - Didier Konan and Abdou Traoré have also begin to settle. Watch this
cool interview
! (
Yssouf Koné was sold to Cluj in July.
)
Nevertheless we need some experience too, and we have been looking for older players the last 4-5 transfer windows. In the end of August we signed both
Mikael Dorsin
and
Anthony Annan
. Dorsin returned after a somewhat bad spell at Cluj. Annan came from champions Stabæk, but the Ghana international is cup-tied in the UEFA Cup.
Injury update
After just getting one point in the three last league matches and finishing 5th, Rosenborg are really keen on doing well in the UEFA Cup, somehow saving a quite poor season. Last year our good European campaign did comfort.
We are missing central defender Kris Stadsgaard (knee), but replacement Alejandro Lago has played 60% of the games this season, so he won't be missed that much. Valencia will in other words face a pretty regular RBK line-up:
Rune Jarstein

Mikael Lustig - Vadim Demidov - Alejandro Lago - Mikael Dorsin

Per Ciljan Skjelbred - Alexander Tettey - Roar Strand
Marek Sapara

Steffen Iversen - John Pelu/Didier Konan​
Watch Intertoto Cup highlights 2008/09:
-
Ekranas - Rosenborg 1-3
-
Rosenborg - Ekranas 4-0
-
NAC Breda - Rosenborg 1-0
-
Rosenborg - NAC Breda 2-0
Watch UEFA Cup highlights 2008/09:
-
Djurgården - Rosenborg 2-1
-
Rosenborg - Djurgården 5-0
-
Brøndby - Rosenborg 1-2
-
Rosenborg - Brøndby 3-2
-
Rosenborg - Club Brugge 1-1
-
St. Etienne - Rosenborg 3-0
Finally, here are some photos for you:
Rosenborg - Vålerenga 1999
Rosenborg - Molde 1999
Rosenborg - Feyenoord 1999
Rosenborg - Borussia Dortmund 1999
Rosenborg - Brøndby 2002
Rosenborg - Lyn 2004 (celebrating the league title)
Rosenborg - Sundsvall 2005
Aalesund - Rosenborg 2005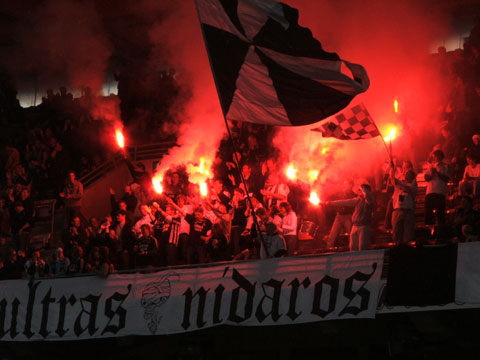 Rosenborg - Lyn 2005
Sandefjord - Rosenborg 2006
Lillestrøm - Rosenborg 2007
Rosenborg - Lyn 2007