Discussion Starter
•
#1
•
As pre-season for the players starts imminently it is time for a new thread for a new season.
I doubt anyone would have thought we'd be in this position this time last year. The club has progressed so much in the last year it's quite hard to believe. We've had a great manager come in who has worked magic and who we have managed to sign to a contract for a further two years, we're keeping together most of our squad going into this season and some early signings have already been made. Stadium improvements have happened and our youth teams all won their respective leagues.
The players will be gathering on Monday and will be in Belgrade for a few days before heading to Zlatibor on the 14th and then to Austria on the 23rd June until 3rd July. We'll play 4 friendlies in Austria before heading back and our first game in the Champions League qualifying will be either the 10th or 11th July.

Squad Overview
Goalkeepers
Milan Borjan would appear to be staying and will remain our number 1 goalkeeper. Kahriman and Supic have had their contracts expire but Supic may stay another season. Aleksandar Stankovic, currently at Graficar, is expected to come into the first team. We have been linked with a couple of goalkeepers but nothing serious at present.
Defence
With Damien Le Tallec leaving on a free transfer it leaves us with 3 centre backs in Vujadin Savic, Srdjan Babic and Abraham Frimpong.
Our number one priority would appear to be occasional Serbian international and BATE Borisov defender Nemanja Milunovic. The clubs have agreed a fee and negotiations are ongoing. The difficulty we appear to be having is in relation to Milunovic's reluctance to come back to Serbian football. From what I've read he had problems when he played for Mladost. We should get a response from him in the next couple of days however.
Strahinja Erakovic may also get a shot. I think it's important that the club continues to blood youngsters and from what I've seen from him so far he's very imposing for a 17 year old. Definitely someone we can look to give a chance to in certain games, especially in the event of Frimpong also leaving us.
At full back we're fairly well covered with Filip Stojkovic, Marko Gobeljic, Milan Rodic and Stefan Hajdin and probably the best group of full backs we've had in a long time. Obviously we have Rodic at the World Cup so he'll miss most of pre-season and will need some time off before the qualifiers so I'd perhaps expect Hajdin to start that initial first round qualifier. Dusan Andjelkovic has retired.
Midfield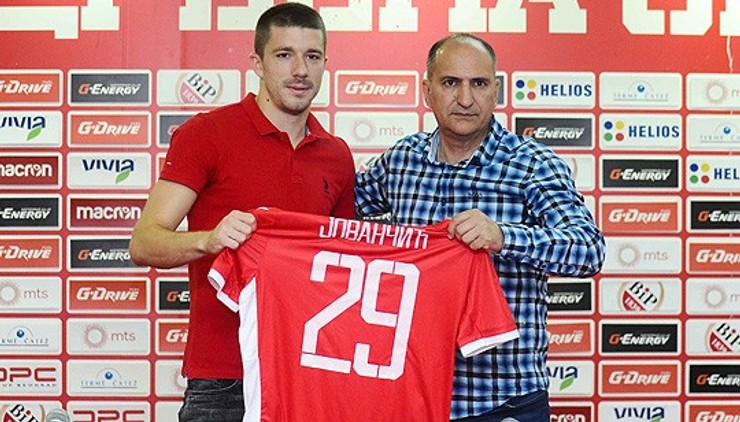 Centrally we have had Mitchell Donald leave on a free following the expiring of his contract and we have now sold Uros Racic to Valencia for a nice sum of €2.2m.
I'm not too fussed about Mitch leaving, I think in some European games he appeared a bit out of his depth and was already being phased out of the side at the end of last season as Jovicic and Krsticic took the two spots in midfield. They're much more dynamic and much more of what Miloje wants from his midfielders.
Dusan Jovancic has came in on a free transfer from Vojvodina, from what I've seen he appears to be a good player and someone can definitely add to our team as a rotation player.
Otherwise we're looking slightly thin in this department and I'd hope for 1 more midfielder. We do have Filip Bainovic and Andrija Lukovic coming back from loan spells at Rad and Vozdovac respecively but I am unsure whether either of them will get an opportunity.
We have been linked to Zdravko Kuzmanovic and apparently there is interest from both sides. He's not the player he once was but he'd be a fantastic signing for us. Would undoubtedly provide us with a significant amount of experience and quality in our quest for Europe.
Expect Ivan Ilic also to get minutes are per our agreement with Man City.
In the more attacking positions we have had Luka Adzic leave to join Anderlecht for €800,000 after he refused to sign a new contract and unfortunately left under a cloud. Luka Ilic has also left, Man City deciding to send him out on loan to NAC Breda instead.
We are currently left with El Fardou Ben, Nemanja Radonjic, Slavoljub Srnic, Nemanja Milic and Nenad Milijas. Milijas will be remaining for a further season whilst Srnic and Milic have permission to leave in the event that good bids for them come in.
Dejan Meleg has been agreed and is due to be promoted on Monday and we'll also be adding Stefan Cvetkovic and Veljko Nikolic to the senior squad this season, the former who has been playing very well in Graficar.
We have also been linked with Milan Jevtovic and personal terms have been agreed but his club isn't letting him go cheaply and we may have to wait a bit before he joins.
With Radonjic also at the World Cup it really does leave us a bit thin in these positions and so I'm sure we'll be seeing another signing or two. Marin was an option but Oly had some big offers from China and he's going over there.
Attack
Aleksandar Pesic and Dejan Joveljic remain from last season whilst Nikola Stojiljkovic will be signing from Braga on loan with an option to buy at the end of next season. Pesic will still probably leave if we can find a suitable striker, who will most likely be foreign.
Expect Joveljic to get more opportunities this season. We also have Milan Pavkov returning from loan but looks like we'll be selling him shortly.
Therefore the squad at present looks like this:
GK: Borjan, Stankovic, Supic
DEF: Savic, Babic, Frimpong, Stojkovic, Rodic, Gobeljic, Hajdin, Erakovic (?), ?
MID: Krsticic, Jovicic, Jovancic, Radonjic, Ben, Milic, Srnic, Meleg, Nikolic, Cvetkovic, Bainovic (?), Lukovic (?)
ATT: Pesic, Stojiljkovic, Joveljic, Pavkov (?)
A very heavy focus on domestic players, which I like and I'm sure if the right foreign player is found then we'll go in for them. A few have been mentioned but nothing concrete as of yet.
Must also be worth mentioning that we got 5% of the Spajic transfer to Krasnodar, that we'll get 5% of any Luka Jovic transfer to Eintracht (or anyone else) and also some amounts whilst Radonjic and Rodic are at the World Cup.
Champions League
As mentioned, our opening game will be either 10th or 11th July, and so slightly later than last summer with a mostly formed squad and new signings essentially being with the club from the start of pre-season.
Due to years of poor performance in Europe (last season excepted) we'll only be seeded in the first round of qualifiers.
There are the teams we can play in the first round:
-Škendija (Makedonija)
-F91 Didelanž (Luksemburg)
-Spartak Trnava (Slovačka)
-La Valeta (Malta)
-Vikingur Geta (Farska Ostrva)
-Krusajders (Severna Irska)
-Olimpija Ljubljana (Slovenija)
-Liliputanci iz preliminarne faze (Santa Koloma; Linkoln; La Forita; Drita)
-Alaškert (Jermenija)
-Sutjeska Nikšić (Crna Gora)
-Suduva Marijampole (Litvanija)
-Spataks Jurmala (Letonija)
-Kork Siti (Republika Irska)
-Valur (Island)
-Flora Talin (Estonija)
-Torpedo Kutaisi (Gruzija)