This team that conformed is the result of the investigation; Investigation reviewed oceanic race by oceanic race.
I refer to the
continental selection.
They are also players Oceanic race.
I incorporated great players of the
Moluccas Islands
, which belong to the continent and the Oceanic racial group.
The result is a group of very good players, competitive, even many of them formed part of major football teams as the French or Netherlands.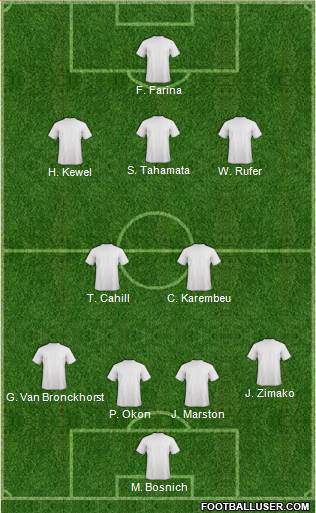 Later I will do add videos with sources and a second group of substitutes players.
PD: The Republic of South Maluku Islands team has great players as Denny Landzaat, Bobby Petta, Giovanni van Bronckhorst and
Simon Tahamata
. They played for Netherlands NT, but belong to the
Melanesian race
. Also this "country" won an international title of the NF-Board called
UNPO cup
http://www.rsssf.com/tablesu/unpo05.html
Van Bronckhorst is the son of a marriage of
Melanesian race
.
When the CONMEBOL chose his all stars team, they elected to Argentine Di Stéfano.
In addition there are many examples in Africa (Eusebius, Desailly, Tresor, etc.)
Case different is of Karembeu and Zimako that played in great French National Team of different years. Another good player of the
Kanak race
was Antoine Kombouare.
* One video of
Simon Tahamata
, he was part of the national football team of the Netherlands on 22 occasions. Also he made 116 goals in his professional career played in teams like Ajax, Feyenoord and the Standard Liège.
Played like a great Attack playmaker midfielder.
Tahamata is leyend in Netherlands.
YA2-ZepONxo
* This is the official page of
Jacques Zimako
.
He was part of French football team of Platini.
He had the right hand leg, but played mostly as a left full back.
Oceania's best Player of the Century
http://www.afterfoot.fr/joueurs/jacques-zimako
List of substitutes
:
*
Mark Schwarzer
*
Tony Dorigo
*
Paul Okon
*
Stan Lazaridis
*
Tim Cahill
*
Denny Landzaat
defensive midfielder of Moluccan descent that played by N.T. Netherlands.
*
Johnny Warren
*
Mark Viduka
[/IMG]
Now I did a team of all stars
Moluccas Island
. :shades:
This is a good team, on the same level that
Suriname
or
Georgia
.