Discussion Starter
•
#1
•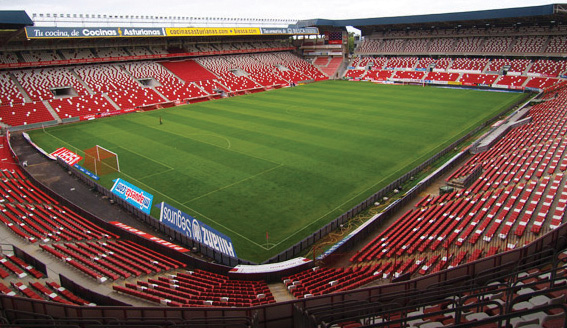 Atlético don't actually struggle much at El Molinón. We hadn't lost a game there until March 14, 1993 before Perea-Raúl García gifted the Gijón-fans a win.
This'll be Atlético's sixth away game (we have only played two at home..) since the arrival of Diego Simeone. The boys have already gone on to win three of those even though it clearly should've been three points last weekend as well. Interesting game from quite a few angles; first time for Simeone, Burgos and everyone else that they're handling two games in a week. That's why it was so important to score the third goal that killed off Lazio on Thursday, the key players got themselves 20 minutes less on the pitch on Olimpico which can only bode well for next week, an intensive week on top of everything. The game against Sporting is also interesting because they'll be playing a side who just got themselves a new coach. Javier Clemente will most likely be playing a very defensive minded 4-2-3-1-system and they've already lost Nacho Novo to another club. Sporting's season is all but good; they really struggle with the balance and defensively, might be their time to get relegated this time around. Few players have shown up properly, interestingly it's actually a former Atlético-goalkeeper who's done well; Pichu Cuéllar. One can say that David Barral is doing allright too, seven goals in a team that's scored 20 as a total is good, his situation reminds me a lot about Adrián at Deportivo last year.
Convocados
: Courtois, Asenjo; Domínguez, Filipe, Godín, Miranda, Perea, Sìlvio, Juanfran; Arda, Assunçao, Diego, Gabi, Koke, Mario, Salvio; Pizzi, Adrián, Falcao
Courtois will definitely continue in goal despite his misstake in Rome, as long as he minimizes those, it'll be all fine. Forgot to mention btw, major props to Cholo for calming down Thibaut right after Klose's goal. Juanfran should start at right-back but Simeone's got a chance to integrate Sílvio with the win over Lazio and thus give Juanfran a bit of rest. I expect Miranda-Godín to be the central partnership. As for Filipe, could be a good idea to rest him because he's on four bookings and might miss FCB next weekend. Sílvio's an accomplished left-back and can play there as well. I suppose we'll see Mario-Gabi in the centre of midfield after their showing in Rome, both were absolutely great. Tiago is injured, so he might be back for either the return leg against Lazio or FCB. Adrián should continue playing, same goes for Diego, both got their rest after they had done the job on Lazio. Question mark regarding Arda though, he got a knock in training today but still made the squad. It's either him or Koke on the left. Falcao, naturally, upfront, another player in danger of losing the FCB-game (would be the second time this season btw..) if he gets a booking. Curiously, he's been booked four times since the arrival of Simeone, not a single one under Manzano's reign.