Discussion Starter
•
#1
•
Jarryd Hayne trashes sport's last sacred rule with snub for Eels
COMMENT: JARRYD Hayne just broke the only rule in sports that is still sacred when it comes to professional athletes and the public: Don't treat the fans like idiots.
In signing with the Gold Coast Titans, after repeated assurances to Eels fans that he would return to Parramatta, Hayne went there. He went there in cold, cynical fashion that should forever rip the veneer from all the guff we've been fed over the past two years about his 'dreams'.
The sporting public are a hardened lot these days and in a fully professional era, they need to be. There are more big money options than ever before for the top stars, especially in the global economy where borders don't matter, and even more so in a time where every sport is chasing the 'perfect athlete' and skill sets are increasingly hybridised. It has never been less likely that your favourite star will stay put at your club for a decade and retire a revered one-club (and now one-sport) player.
If Sonny Bill Williams revolted fans with his walkout on the Bulldogs, his cross-code leaps ever since have been accepted readily, even celebrated. They are part mercenary, part glory hunter, but they are just the new reality that comes with an exceptionally talented sportsman who can ply his trade in similar codes – and generate huge interest and revenue for all parties in doing so.
Here's why SBW's image has completely changed: His agenda these days could not be more transparent. There are no walkouts, no blindside shocks. There are short-term deals and no promises beyond what are written in the contract, the terms of which he meets meticulously these days, as a more mature person than the hyped-up kid who left the Dogs mid-term under the cover of night.
There is the up-front expectation that SBW will do what he wants to do and keep us all posted. And think back: Even the ugly dash to Toulon didn't come with a bunch of rubbish about dreams and personal challenges. SBW did it for the money, straight up.
Hayne one-upped SBW's cross-code exploits with his unprecedented shot at the NFL and the fact he made it on to the field in America's biggest sport at his very first attempted season remains a miracle. It's well-known he took a salary cut during that time but he aggressively acted to turn himself into a brand, rake in big-money sponsorships and also churn out a documentary.
He set off for that mission with the whole-hearted support of the Eels and both parties claimed a 'lifetime agreement' was in place for Hayne to return to Parramatta should he make an NRL comeback.
Eyebrows were raised when Hayne flippantly quit the NFL for an incredibly unlikely shot at Fiji's Sevens Rugby team for the Rio Olympics, drawing scorn when he claimed that competing in the Olympics was another 'dream' he'd always had.
When it came to nothing, and the Eels suddenly dropped Kieran Foran's contract, the stage was set for a comeback. And the message to Eels fans from Hayne throughout the entire saga could not have been more emphatic.
To Eels fans in a special letter, as he left for the NFL in October 2014: "I'm leaving knowing that I have signed a 'lifetime agreement' with the Eels, so if I return to the NRL, it will be to Parramatta."
Earlier this year, after the latest round of rumours linking him to the Roosters: "Like I always said, if I ever came back I'd go to Parra if they wanted me. That was always something I said from the start. It's funny when you see media outlets say I'm doing this and I'm doing that. It's even funnier when you see Parra fans go online and have a go at me. If you believe that you're a clown."
Jarryd Hayne at his press conference announcing his NFL switch.Source: AAP
Hayne lambasted people who claimed he was ready to quit the NFL as clowns. He called those who said he'd play for an NRL club other than the Eels clowns. Who's the clown now, Jarryd? Parramatta (a club admittedly at rock bottom) wanted you. They made you an offer (you say was informal). You went to a rival club, despite all your supposedly heartfelt promises.
Even in announcing the signing, Hayne was playing an angle - he put out his first statement on the signing via the Twitter handle of his apparel brand, then retweeted it from his personal handle, in order to give his business a plug while his name was white hot.
What Parramatta later admitted about the 'lifetime agreement' was that it wasn't binding. So you can toss up the excuse that Hayne - who blamed Parramatta's instability - did no wrong as he didn't break a contract ... but that's completely beside the point.
SBW killed the idea that there's a sacred bond of loyalty between teammates in the professional era. The current Robbie Farah saga is just the latest reminder that there is virtually no loyalty between clubs and players anymore.
There are few things sacrosanct these days in the relationship between players and fans, supporters who have become conditioned to understand that a pro athlete needs to make as much money as possible in a short career that could end at any moment due to injury. More than ever, they get it, and blind rage over players swapping clubs is more often than not glum acceptance.
But there's one rule still remaining: Don't treat the fans, the people who pay to see you play, buy your jersey, make you endorsement-worthy and ultimately make you filthy rich, like morons.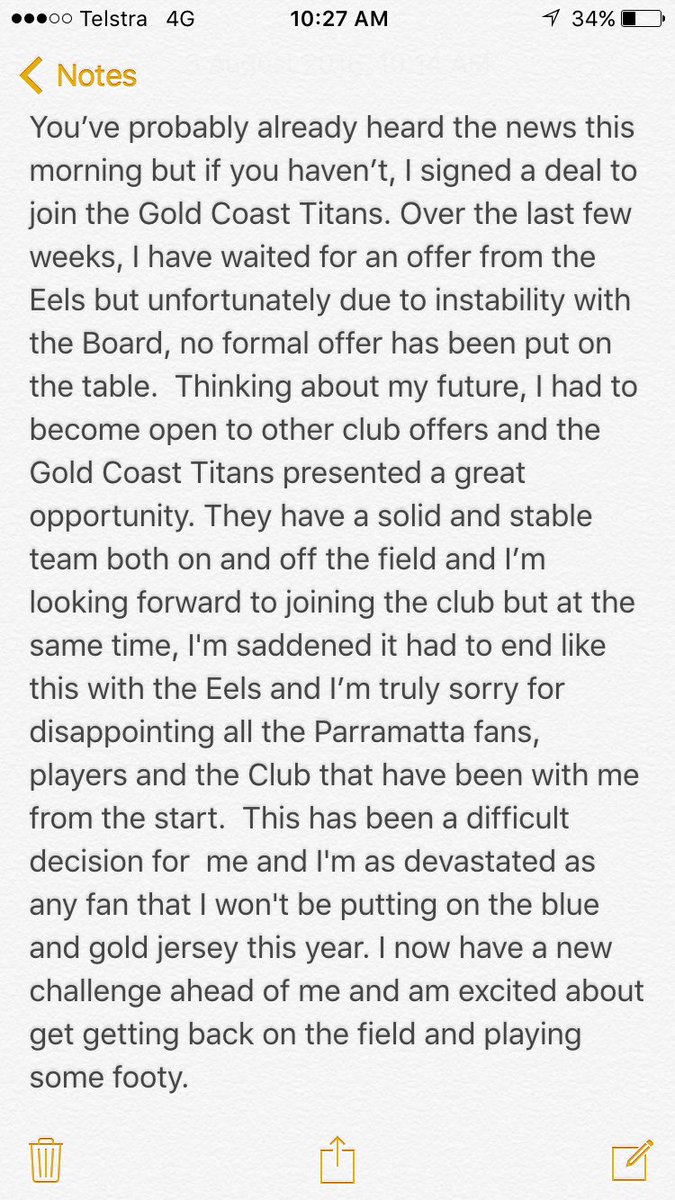 Hayne just went there.
Now, we wait to see how his 'dream' of playing for a struggling franchise in a rugby league wasteland pans out, in front of more seats than supporters.
At least seats can't have their hearts broken and their intelligence insulted.
**Tim Elbra is FOX Sports Australia homepage editor - and a long-suffering Eels fan
Home | Live Scores & Latest News | Fox Sports