Discussion Starter
·
#1
·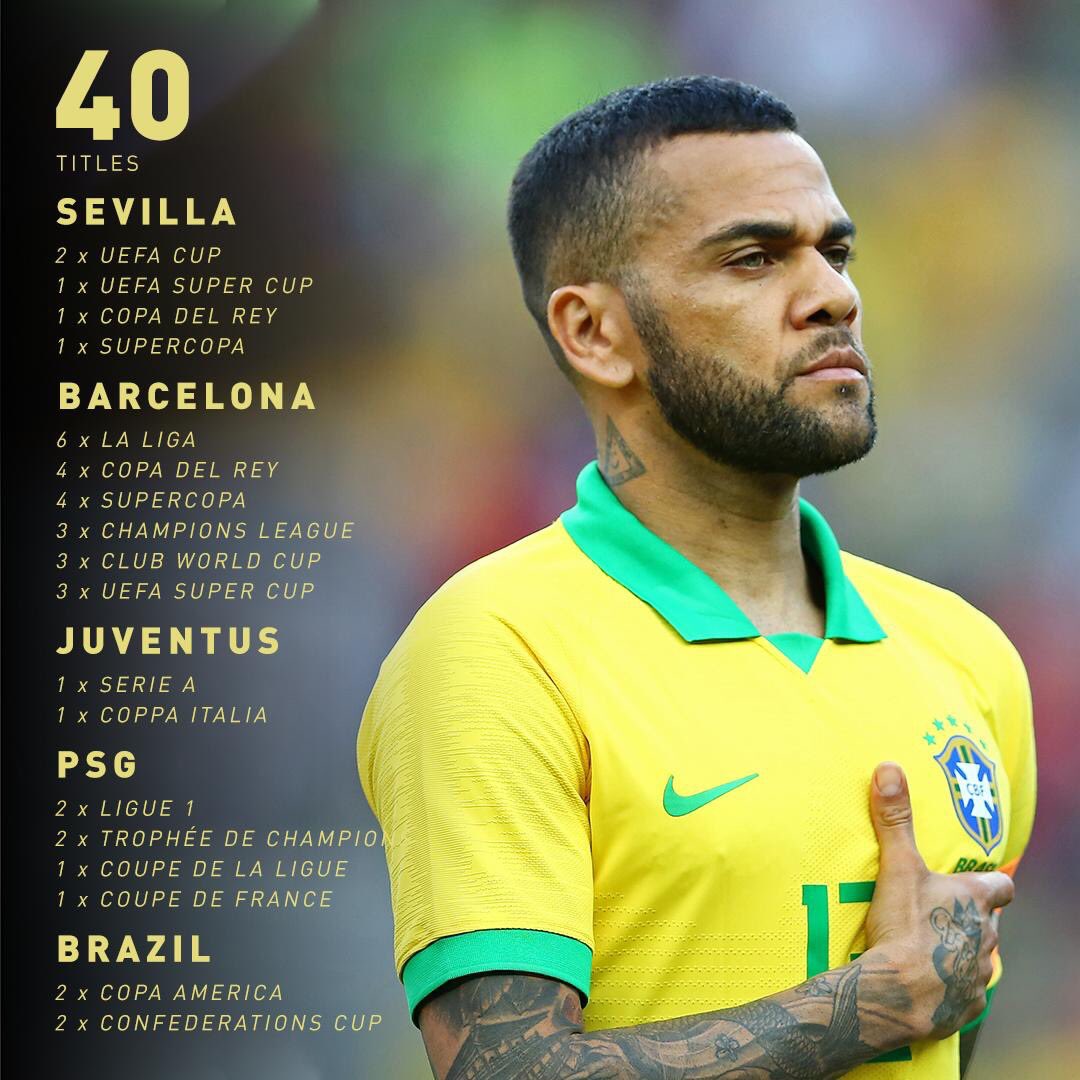 I heard he is the most decorated player in the history of football with 43 trophies, and when I went to his wiki to check I discovered his individual honors list is also stacked:
Campeonato Paulista Team of the Tournament: 2020
FIFA U-20 World Cup Bronze Ball: 2003[107]
UEFA Cup Most Valuable Player: 2005–06
UEFA Super Cup Man of the Match: 2006
UEFA Team of the Year: 2007, 2009, 2011, 2015, 2017[108]
ESM Team of the Year: 2006–07, 2008–09, 2009–10, 2010–11, 2011–12[109]
FIFA FIFPro World11: 2009, 2011, 2012, 2013, 2015, 2016, 2017, 2018[110][111][112][113][114][115][116][117]
FIFA FIFPro World11 2nd team: 2014[118]
FIFA FIFPro World11 World11 nominee: 2019 (4th defender)[119]
La Liga Defender of the Season: 2008–09
FIFA Confederations Cup Team of the Tournament: 2013
La Liga Team of the Season: 2014–15[120]
France Football World XI: 2015[121]
Serie A Team of the Year: 2016–17[122]
IFFHS Men's World Team: 2017[123]
UNFP Ligue 1 Team of the Year: 2017–18[124]
Copa América Best Player: 2019[125]
Copa América Team of the Tournament: 2019[126]
IFFHS CONMEBOL Team of the Decade: 2011–2020[127]
The most surprising one is that he was named Copa America MVP in 2019 at the age of 36 (haven't followed the tournament). As can be expected from these all-star XIs some of those awards are bollox, but it's nonetheless impressive.
Bottom line is the dude was world class for Sevilla, world class for Barca, world class for Juve, world class for PSG and world class at international level for Brazil.
His contribution to the Brazilian NT isn't on par with that of other Brazilian RBs such as Djalma Santos, Carlos Alberto or Cafu, but overall Alves has proven himself in many environments and had great longevity.
It's insane how 3 contender for the GOAT RB were already Brazilians, and now another one can potentially join them in the convo. From Europe you have Berti Vogts and in modern times Thuram, but that's about it.
--------------------------------------------------------
So how do you guy rate Alves in the echelon of great right-backs? Does he have a case to be the best ever?