If Yugoslavia went to USA 1994
Yugoslavia at the World Youth Cup, 1987.
Yugoslavia in the 1990's has the potential to be among the greatest ever. They won the World Youth Cup in 1987. The squad included several players who later found stardom in club football. Then, in 1991, Red Star Belgrade won the European Cup. They had a great run at Euro 1992 Qualifying rounds. They won 7 out of 8 games and eliminated Denmark. However, ten days before the tournament, Yugoslavia was banned from playing due to war in the region. Denmark replaced them and went on to win the European Championship.
I created a 22-member squad of Yugoslavia for the 1994 World Cup Finals. This squad probably would be similar to Euro 1992 and 1996 as well. Yugoslavia actually announced an official squad for Euro 1992 before the ban. Croatia and Slovenia already declared independent in 1991 so the their players were no longer available for selection. All the Bosnians and Macedonians were also not included because of fighting. The players I listed below, however, included players from all the former republics.
The year 1994 was a good year for Yugoslavian players. Dejan Savicevic was among the best player in the world. Along with Boban, he helped AC Milan to win the Champions' League that year. Davor Suker finished as the second best scorer at La Liga. Slaven Bilic was voted the second best defender in the Bundesliga. They had the talents to challenge Brazil and Italy for the WC title.
Yugoslavia at World Cup 1990
The Team

GK Drazen Ladic
Ladic was first capped by Yugoslavia in 1991. He became the starting goalkeeper for Croatia after the independence. He had 58 caps for Croatia and twice for Yugoslavia. He proved himself to be a great keeper in the 1998 World Cup Finals, despite giving up two easy goals during the qualifiers. He spent most of his career with Dynamo Zagreb.
GK: Tomislav Ivkovic
Ivkovic was the starting goalkeeper for Yugoslavia at the WC in Italy. He left Red Star Belgrade in 1985 to seek for a career in Western Europe. He played in Austria, Belgium and mostly in Portugal. Ivković moved to Sporting Clube de Portugal in 1989, and remained there for the following four seasons, rarely missing a game, although he did not collect any silverware.
GK: Fahrudin Omerovic
Omerović begin his career in FK Sloboda Tuzla. In1984, he transferred to FK Partizan. With Partizan he won two Yugoslav championships, two Yugoslav Cups, and one Supercup. He transferred to Kocaelispor in 1992. He played Kocaelispor for 4 years. After he moved to İstanbulspor and played there for 2 years. He was capped eight times for Yugoslavia between 1989 and 1992.
RB: Zoran Mirkovic
Mirkovic started his with RAD back home. He played Partizan before heading to Serie A in 1996. He spent two seasons with Atalanta and then, secured a big move to Juventus. In summer 2000, Mirković joined Fenerbahçe in Turkey. From 1995 to 2003, he was capped by Yugoslavia. He was a participant in the 1998 FIFA World Cup in France.
RB/CM Branko Brnovic
Bronovic signed with FK Partizan in 1991, helping the club to back-to-back national championships. In 1994, Brnović joined Espanyol in La Liga. Capped 6 times by Yugoslavia. He helped the national to qualify for Euro 1992, only to be suspended due to the Yugoslav Wars. Subsequently, Brnović represented the newly formed Serbia and Montenegro, being selected for the 1998 FIFA World Cup in France.
CB: Miroslav Djukic
Miroslav Djukic spent 14 years of his professional career in Spain, notably for Deportivo de La Coruña and Valencia, winning six major titles for the two clubs combined. In 1994, while playing for Deportivo, Đukić missed a penalty kick in the game's last minute (eventual 0–0 draw). As a result FC Barcelona were crowned champions instead of Deportivo La Coruna. He had 48 caps and played at Euro 2000 for Yugoslavia.
Miroslav Djukic
CB: Slaven Bilic
Slaven Bilic career began in 1988 with Hajduk Split and he later had successful spells with Karlsruher SC in Germany, and West Ham United and Everton in England. At national level, Bilić earned 44 caps between 1992 and 1999 and playing in UEFA Euro 1996 and the 1998 World Cup, helping the team to third place at the latter tournament.
CB: Igor Stimac
Igor Stimac won 53 caps and scoring two goals, and a member of the Croatian squad that came third at the 1998 World Cup. He was also a member of the highly talented Yugoslavia under-20 team that won the 1987 World Youth Championship. In his playing career he had three spells with Hajduk Split and also played for Cádiz in Spain and for Derby County and West Ham United in England.
CB/LB: Sinisa Mihajlovic
Sinisa Mihajlovic was capped 63 times between 1991 and 2003 for Yugoslavia. He won the European Cup with Red Star Belgrade. In 1992, he moved to Italy and became was one of the best defender in Serie A, notably played for Roma, Sampdoria, Lazio and Inter Milan. With Lazio, he won UEFA Cup Winners Cup: 1998–99. He was part of the golden generation of Yugoslav players who won the 1987 FIFA World Youth Championship in Chile.
Sinisa Mihajlovic
CB: Faruk Hadžibegić
Faruk Hadžibegić was capped 61 times for Yugoslavia from 1982 to 1992. He went to the WC Finals in 1990. He is the second most capped Bosian player for Yugoslavian national team and and fifth overall most capped player for the Yugoslavia national football team (61 caps During his career he played for FK Sarajevo, Real Betis, FC Sochaux and Toulouse FC.
CB: Predrag Spasic
Spasic had 31 caps between 1988 and 1991. He represented Yugoslavia at the 1988 Summer Olympics. He was also the starting centerback at World Cup Finals in 1990. Over the course of his career he played for FK Radnicki Kragujevac, FK Partizan, Real Madrid, CA Osasuna, Atlético Marbella and FK Radnički Novi Beograd, retiring at the age of 31.
LB: Robert Jarni
Robert Jarni was a member of Yugoslavia's Golden Generation of the 1990's. He went to the World Cup Finals in 1990 with Yugoslavia and later, represented Croatia at the World Cup Finals in 1998, where they reached the semifinal. Professionally, he began Hadjuk Split had played in big clubs such as Juventus and Real Madrid as well as Real Betis where he had his longest spell. He also played in England and Italy.
Robert Jarni
CB/LB: Ilija Najdoski
Ilija Najdoski played for Red Star Belgrade and was part of their European Cup victory in 1991. He also played in Spain for Real Valladolid in Spain's La Liga and Denizlispor in Turkey's Super Lig. He represented both Yugoslavia and Republic of Macedonia in international matches. He played in the first ever official match of Macedonia, played on 13 October 1993, against Slovenia.
DM: Srečko Katanec
In 1988 Srečko Katanec joined VfB Stuttgart. This team reached UEFA Cup finals in 1989 and lost against Diego Maradona's Napoli. He stayed in Germany only one season. In 1989 he signed for Italian Sampdoria and already at his first season there he won European Cup Winners' Cup. In 1991, his Sampdoria won a "Scudetto", next year it reached Champions League finals and lost against FC Barcelona. He played for both Yugoslavia and Slovenia national teams.
CM: Vladimir Jugovic
Jugovic was a member of Red Star Belgrade that won the European Cup in 1990. He won another one with Juventus in 1996. He also played for Sampdoria, Inter Milan, Atletico Madrid, Lazio, LR Ahlen, AS Monaco FC and VfB Admira Wacker Mödling. He warned 41 caps. He played at Euro 2000 and the World Cup 1998 for Yugoslavia. His total of caps were limited because of the ban on Yugoslavia.
AM/CM: Zvonimir Boban
Zvonimir Boban was the captain of the national team that finished third at the World Cup in 1998. He was also an important player of the highly talented Yugoslavia under-20 team that won the 1987 FIFA World Youth Championship. He waas also remembered for his career with AC Milan with whom he won four Serie A and one UEFA Champions League titles.
AM: Robert Prosinecki
Robert Prosinecki was considered one of the most talented players from Yugoslavia in the 1990's. In 1987, Prosinečki was named the tournament's best player as Yugoslavia won the World Youth Championship. He then played for Yugoslavia at the 1990 World Cup and for Croatia at the European Champion in 1996, and both of the 1998 and 2002 World Cups. For his club career, he played for both Real Madrid and Barcelona, but he failed to establish himself at neither club.
Robert Prosinecki
AM: Dragan Stojkovic
Dragan Stojkovic is considered one of the best players in the history of Yugoslavian and Serbian football. He starred for Yugoslavia at the 1990 FIFA World Cup (where he was named in the World Cup All-Star Team) and 1998 FIFA World Cup where he captained the team. He was a star player at Red Star Belgrade, but he was playing for Marseille when Red Star Belgrade beat Marseille in the Final of the 1990 European Cup. He also played in Japan.
Dragan Stojkovic
AM: Dejan Savicevic
Dejan Savicevic was a part of the Red Star Belgrade team that won the 1990–91 European Cup before joining A.C. Milan in 1992. With Milan, he won three Serie A titles. He was a key player for winning the 1993–94 UEFA Champions League. He represented Yugoslavia at the 1990 and 1998 World Cups. However, his international career was limited by the FIFA ban on Yugoslavia during his prime. He did not appear in the European Championship of 1992 as a result.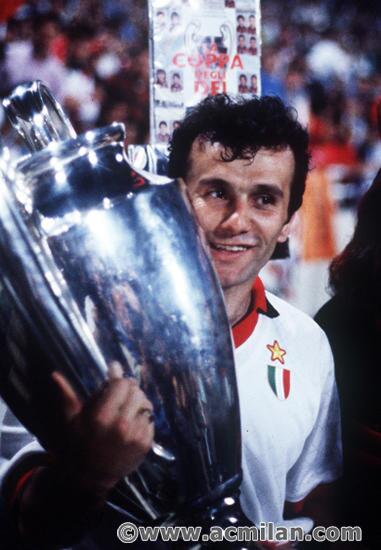 Dejan Savicevic
ST: Davor Suker
Devor Suker was a part of Yugoslavia's Golden Generation in the 1990's. He later played for Croatia, where he is the all-time leading scorer for the national team. He is best remembered for finishing the top scorer at the World Cup in 1998, where Croatia reached the semifinal. He also played with Sevilla, Real Madrid, Arsenal, West Ham and 1860 Munich. He was a top scorer in La Liga while playing for Seville and Real Madrid.
Davor Suker
ST: Alen Boksic
Alen Boksic won the 1992–93 UEFA Champions League, and was voted fourth in the 1993 European Footballer of the Year poll. That same year, he was named Croatian Footballer of the Year. He also won two Serie A titles in 1997 and 2000 with Juventus and Lazio respectively, and is regarded as one of the best foreign players in the history of Serie A since 1980's. He played for both Yugoslavia and Croatia. He missed the 1998 World Cup Finals due to an injury.
ST: Predrag Mijatović
At club level, Mijatović played for six different clubs: Budućnost Podgorica, Partizan, Valencia, Real Madrid, Fiorentina and Levante. He is best remembered for scoring the winning goal against Juventus as Real Madrid won the 1998 Champions' league, the club's first title since 1966. He played 73 times for Yugoslavia. In 1997, Mijatović was runner-up for the Ballon d'Or, behind Ronaldo and ahead of Zinedine Zidane. He played in the 1998 World Cup Finals.
Predrag Mijatović
Honorable mention
Zvonko Milojevic, Dzoni Novak, Zoran Vulic, Darko Milanic, Vujadin Stanojkovik, Budimir Vujacic, Davor Jozić, Slavisa Jokanovic, Aljoša Asanović, Mehmed Baždarević, Zlatko Zahovič , Dejan Petković, Vladan Lukic, Mario Stanic, Safet Susic, Darko Pancev, Meho Kodro.
Too young for 1994, but strong candidates for 1998 and 2000
Ivca Kralj, Dejan Stankovic, Igor Tudor, Savo Milošević, Darko Kovačević, Dario Šimić, Niko Kovac, Robert Kovac.
Squad Explanation
-- I chose to select a squad for 1994 because the World Cup would be more interesting. Most of the players were in their prime that year. In 1992, players such as Suker, Jarni, Boban, Boksic, etc were too young.
-- Dejan Savicevic was among the best player in the world. Along with Boban, he helped AC Milan to win the Champions' League that year. They destroyed Barcelona's "Dream Team" in the Final.
-- Suker finished as the second top scorer at La Liga.
-- Robert Prosinecki was a flop with Real Madrid. He left the club that summer, but Yugoslavia would probably still take him to USA 1994 based on his name recognition.
-- Darko Pancev had been out of form for a few years. He went on loan to Leipzig in January, 1994. He did nt find his form there. Mijatović and Zuker were in top shape that season. Boksic was a star the season before. He helped Marseille to win the Champions' League in 1993 and finished fourth at Ballon d' Or in 1993. He was out of form in 1993-94 season, but he was still a big name as compared to Pancev. Meho Kodro was also in form that season. So I dropped Pancev.
-- Meho Kodro finished third in scoring in La Liga that year behind Davor Zuker. I tried my best to look at the players based in 1994, but I still looked at name recognition. In 1994, Kodro was probably ahead of Boksi or Prosinecki in terms of form, but the pair was considered the best players from Yugoslavia during that period. I decided to take them, instead of Kodro. Many managers in the history of the WC Finals have done that before. Perhaps, I am making the same mistakes.
Starting lineup
-- Bilic was voted the best centerback in Bundesliga at the conclusion of 1993-1994 season.
-- I opted to start two, younger midfielders. Boban just won the Champions' League with Milan in 1994. Jugovic was a top player in Italy as well. I picked them over Katanec.
-- Sinisa Mihajlovic was out of form that season.
-- Zuker was the second top-scorer at La Liga while Boksic was out of form with Lazio and scored only 4 goals that season.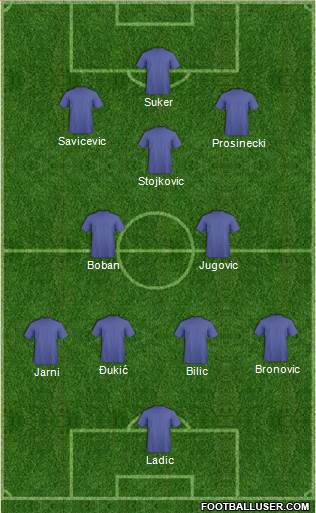 Soccer, football or whatever: If Yugoslavia went to USA 1994