tidbits on our players from the Guardian: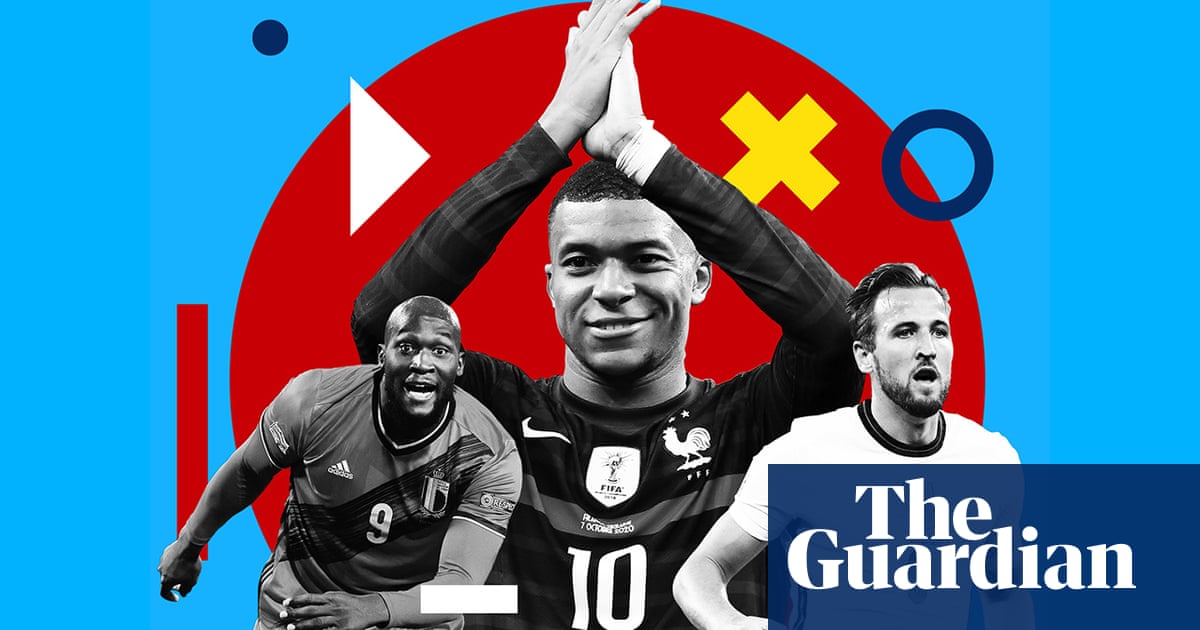 Everything you need to know – and maybe a bit more – about all the players at the tournament, including pets, hobbies and heroes
www.theguardian.com
Several members of the successful 2018 World Cup squad have retired but Luka Modrić is still around.
Star player
Luka Modrić
Strengths
There is new generation of good players coming through, including Borna Barišić, Nikola Vlašić and Bruno Petković.
Weaknesses
An ageing defence has started to crack and Dejan Lovren is an injury doubt. Time for Duje Ćaleta-Car or Josko Gvardiol to step up.
Goalkeepers

Dominik Livaković - 1
- Number 1 goalkeeper
Always had a backup plan if this whole football thing didn't work out for him. Coming from a well-educated family of doctors and engineers — his mum is an English teacher, too — he enrolled at a university to study diplomacy and international relations. "I've put that on hold for the time being, but it's still something I'd like to do later in life," he says. The football did work out very well though and he's been the Vatreni's first choice keeper since 2019.
Lovre Kalinić - 12
At the 2018 World Cup, he was a star goalkeeper in the Belgian league and a planned successor to Danijel Subasic for Croatia, but — due to injuries and lack of playing time after moving to Aston Villa in 2019 — his status has plummeted since. So he went back to Hajduk Split on loan, even agreeing to forgo a large part of his wages, in order to stay in Zlatko Dalic's plans. "I don't need big money if I don't have a goal," he says.
Simon Sluga - 23
Sluga was barely 18 when Juventus, the club he had supported since childhood, took him to pre-season camp in Dubai, where he trained side by side with his idol Gianluigi Buffon as their fourth choice keeper. Didn't get his breakthrough though, so he returned to Croatia and eventually ended up in the Championship after becoming Luton Town's record signing in the summer of 2019 – smashing the previous highest fee the Hatters had paid to sign Lars Elstrup in 1989. At the time of writing he had still not made his international competitive debut.
Defenders

Borna Barišić - 3
The left-back's father Stipe "The Moth" Barisic's name has come up more than a few times in various court cases and investigations of the criminal underground in the east of Croatia. That hasn't really helped Borna's status in his homeland, but he has done well to prove himself since moving to Scotland and was Dalic's first choice for the position during the qualifying campaign.
Domagoj Bradarić - 24
A product of the Hajduk Split academy, the young left-back idolises Jordi Alba. Has won many admirers for his very attacking and attractive style of play: he enjoys nutmegging opponents, shooting from distance and can look too playful for his own good, but is nevertheless seriously talented and very eager to show it. His mum is also his agent.
Duje Ćaleta-Car - 5
A product of the Red Bull Salzburg youth system — although even before that, as a 16-year-old, he had already played senior football for his childhood club, Sibenik — he was the youngest of the 2018 World Cup crop. Now a regular for Marseille and should be a starter at the Euros, making good on his long-recognised potential. Was linked with a move to Liverpool in January.
Josko Gvardiol - 25
- Young talent
Zlatko Dalic has always been more reluctant than most to include youngsters in his squad, but even he couldn't ignore the talents of Gvardiol, affectionately nicknamed "Pep" simply because of his surname's similarity to that of the Manchester City manager. The defender — set to join RB Leipzig this summer — can play centrally or on the left and has shown not only great potential, but also extreme maturity for his age.
Josip Juranovic - 22
Unlike most of his teammates who had played for Croatia in several youth categories, he was an anonymous third-division player whose performances at a nationwide competition for amateur footballers intrigued Hajduk Split enough to sign him for their reserve squad at 19. Just two years later, he made his debut for the national team, and has made a transition from attacking midfielder to full-back since.
Dejan Lovren - 6
- Loudmouth
The side's opinionated, incident- and accident-prone big mouth, but from very early on Lovren, a war refugee from Bosnia, had his mind set at making it big. "I've never seen anyone so determined," says Sanjin Lucijanic, his coach at NK Karlovac when Lovren was 12. "He'd stay to work individually after practice and never wanted to stop, even when it got dark outside; his dad Sasa would come, park his car by the side of the pitch and turn the headlights on so that he could continue." Previous major tournament experience includes being photographed naked at the 2014 World Cup – much to his chagrin. Has struggled with an injury pre-tournament.
Mile Škorić - 16
The captain of the Croatian league's second-best team used to be an attacking midfielder who idolised Zinedine Zidane, but couldn't get further than the second division. Even when he returned to Osijek, he covered pretty much every position apart from goalkeeper and centre-forward before finally settling as a centre-back in 2016 and making it into the national team a year later.
Domagoj Vida - 21
"A girl, a ball and some beer" — that was Vida's answer when asked who or what he'd bring with him to a desert island. The son of a local cult player Rudika, a flying fortress of a striker who scored most of his goals with his famed forehead, Domagoj is the side's merrymaker and vice-captain. He may not be world class, but on the pitch, he plays every game as if it's his last one. Owns a farm that raises Black Slavonian pigs back home in Donji Miholjac. "I have several restaurants that buy meat from me and know that it is fresh," he says.
Šime Vrsaljko - 2
For most Croatians, it is the photo that captured the most compelling moment of their road to the 2018 World Cup final: big smile on his face, resting his arms and head on the national flag placed on the Luzhniki pitch after the semi-final win against England. "I was just exhausted and felt like lying down a bit," said the full-back who was one of the heroes of that match. The fans will be hoping he's finally fit after a long absence with injuries.
Midfielders

Marcelo Brozović - 11
- Unsung hero
Dropped out of school when he was 16 because his dad, a butcher, told him that "football and school don't go well together". Could have continued the family trade if things didn't work out but rather than chopping pork, Marcelo is slicing open Serie A defences with his passes these days. Obsessed with pub games such as darts, billiards and table football – so when he went house-hunting in his native Velika Gorica, he bought one with a large and popular bar on its ground floor.
Mateo Kovačić - 8
A devout Catholic, Kovacic met his future wife in church when he was an altar boy and she was in the choir. Has played for top clubs in Croatia, Italy, Spain and England but national team fans are perhaps most likely to remember his bizarre appearance at the 2018 World Cup celebration rally in Zagreb, when he grabbed the mic on stage as if he had something really important to say that couldn't possibly wait for another second, only to mutter: "We're drunk as little pussycats …"
Luka Modrić - 10
- MVP
Captain, icon, record holder for most appearances for the national team, the most important player in the team by some distance and easily the most successful in the nation's history - but still Modric isn't universally loved in his homeland. The reason is his role in the Mamic trial, the biggest corruption case in Croatian football, when he changed his initial testimony and said he "didn't remember" the key details that would go in favour of the prosecution. Charges for perjury were later dropped, but consequences for Modric's status remained, even after the shock success at the World Cup. Probably in for one last hurrah with Croatia.
Milan Badelj - 19
As far as footballers go, few are less typical than the always polite and self-effacing midfielder who has suffered from an asthmatic condition ("It's better now, not a big problem for me," he says). Badelj comes from a family of florists and his wife is a classical pianist; neither of them are active on social networks. Just five days after the 2018 World Cup final, their son Jona Davide was born. He was named after Badelj's close friend and former captain at Fiorentina, Davide Astori, who died in 2018.
Nikola Vlašić - 13
Josko Vlasic, a former decathlete and a renowned fitness coach, had already raised and trained one world-conquering athlete — his daughter Blanka Vlasic, the high jumper — when he started working individually with his four-year-old son, playing ball and sharpening his skills. "We played everywhere. Even in the living room or in the elevator," Vlasic Sr says. It paid off: with a difficult spell at Everton behind him, Nikola was the hero of the qualifiers, he's one of the best players in the Russian top flight and is now on the verge of a big breakthrough.
Mario Pašalić - 15
- Miracle man
Aged 17 his dreams of a career at the top level looked to have been crushed by a bad bacterial infection. He spent the next six months in hospital: "At times I thought I wouldn't be able to continue playing," he says. A year later he scored both goals for his childhood club, Hajduk Split, in the derby win against Dinamo and the next summer he signed for Chelsea. The London club had him under contract for six years and yet he did not play a single game for them, instead being tossed around on various loans. Proving himself in Spain, France, Italy and Russia, he eventually landed at Atalanta, who finally signed him on a permanent deal last year.
Luka Ivanušec - 26
Adept at playing in midfield or on the wing, the quiet and skillful 22-year-old has been the Croatian league's best dribbler for years, while continuously improving other aspects of his game. Definitely set to achieve big things and could be a mainstay for Croatia in the coming years, but also finishing his studies in sports management before thinking about moving abroad.
Forwards
Ivan Perišić - 4
Moved to French club Sochaux from Hajduk Split at 17 to save his father's chicken farm, which was in financial trouble and desperately needed the money. A reminder of that is a tattoo of a hen playing football on his right leg. Would go on to win league titles with Borussia Dortmund, Bayern and Inter, as well as the Champions League last season with the Bavarians. A keen beach volleyball player, he even participated in a professional tournament once, but otherwise leads a quiet life, avoiding public appearances off the pitch.
Mislav Oršić - 18
- Late bloomer
Call him a late bloomer if you will, but the humble and almost universally likeable winger who knocked out Tottenham out of Europe this season with an amazing hat-trick is finally where he always wanted to be: a star for the club he has always supported and also a member of the national team, possibly its secret weapon. And if he had to go through Serie B, Slovenia, South Korea and China to get there, that only made him value what he has now.
Josip Brekalo - 7
His dad was a talented footballer in Bosnia and Herzegovina whose career was cut short at 21 when he was wounded on the battlefield. He moved to Zagreb where Josip was born and started playing football at Dinamo. The crafty winger sparked controversy in Germany when he stated he wouldn't like to carry a captain's armband with LGBT colours, saying he was "raised religiously" and that would "contradict his Christian belief".
Ante Budimir - 14
Another war refugee from Bosnia, has never played for a major club in Croatia and made his international debut only last year at the age of 29. Also a university student, with only a few exams left at the Zagreb Faculty of Economics and Business. With his fighting spirit and presence in the air, he reminds fans of Mario Mandzukic.
Andrej Kramarić - 9
A Zagreb boy with an insatiable hunger for goals, who took the same tram to training for 16 years but made a name for himself away from Dinamo, has grown into a second-striker type who thrives between the lines. Despite his qualities, he still doesn't really fit the way the team plays and that has, more or less, always been the case. He's rather philosophical about it though: "There's an upside to every weakness," he says. "I may lack aggression and am sometimes too cold-headed, but that's what makes scoring easier for me." A forgotten member of Leicester's 2015-16 Premier League winning squad – though he played only twice that season and spent the second half of it on loan at Hoffenheim.
Bruno Petkovic - 20
- Main goalscorer
By 2018, Bruno Petkovic hadn't scored for almost two years. This was a centre-forward, big and strong, who played fairly regularly in Serie A and Serie B and couldn't find the net for 620 days, or 2,300 minutes spent on the pitch. Dinamo signed him nevertheless and he flourished, also breaking in to the national team where scored six in his 13 appearances. When fully fit and at his best, he's an amazing player: despite his classical No 9 build, he has wonderful technique and vision.
Ante Rebić - 17
- Maverick
The explosive attacker, who scored that incredible volley after Willy Caballero's howler at the 2018 World Cup, is not too impressed by anything: media spotlight, culinary traditions or even Zlatan Ibrahimovic, with whom he collaborates successfully at Milan. He seems the happiest when he can return to his roots. So when he moved to Fiorentina as a 20-year-old, he said he missed home cooking the most, shunning Tuscan food; later he also reportedly paid off bank loans for all the residents of his small native village, Vinjani Donji.