Discussion Starter
·
#1
·
VS.
Now it is settled:
Ekranas in Intertoto Cup
Even though our performances in the domestic league have been quite bad ever since we won the championship in November 2006, I don't think there have been more optimism around Rosenborg since our great 2003 season.
Erik Hamrén
The main reason for this, is the big trust in our new coach Erik Hamrén. The Swede made Aalborg champions in Denmark last season, and seems to have some really good ideas for how to take Rosenborg back to the top.
In deep contrast to most of the other 6(!) head coaches succeeding
legandary Nils Arne Eggen
, who retired in 2002, Hamrén has good experience from other big clubs after Scandinavian standards, e.g. AIK. Experience is essential for being respected and "untouchable" in a club with stronge traditions like Rosenborg.
Unstable youngsters
Our biggest challenge is the low average age of the players; just around 23 years in some matches this season. Our performances and results are far to unstable due to the lack of experience. The two wins against Valencia in the Champions League (videos:
home match
|
away match
) proved the potential of our young team. Meanwhile we touched the bottom when losing against 3rd level club Kristiansund in the domestic cup a few weeks ago.
Seven years ago RBK were ranked as the 35th best on the
UEFA club ranking
. The club wants to
repeat history
, but it is far to go.
After spending most of the prize monies from our 10 first seasons in the Champions League (1995-2002, 2004 and 2005 -watch
video highlights
!) on rebuilding our stadium and signing expensive, older players, Rosenborg now (again) have begun prioritizing developing own, local players.
Local players
Our two reserve/U19 teams, RBK2 and RBK3, are playing in regular senior leagues, Norwegian 2nd and 3rd division, and are packed with players representing Norway on U15-U19 levels. When
Rosenborg knocked AC Milan out
of the Champions League in 1996, 9 of 11 players in the starting line-up were from the Trondheim area. This is not likely to happen again in a globalized world of football, but hopefully the basis of future teams will be local players with a big heart for Rosenborg.
On the first team, Per Ciljan Skjelbred and Alexander Tettey, are well established on our midfield, and they are looked upon as the team's future "grand old men".
New signings
Other young players like Vadim Demidov (defender/midfielder), Kris Stadsgaard (defender) and Rune Jarstein (goalkeeper) were signed this winter, and they have already proved their potential.
Our young Ivorian trio - Abdou Traoré, Didier Konan and Yssouf Koné (the latter is soon
leaving for Cluj
) have also begin to settle. Watch this
cool interview
!
Nevertheless we need some experience too, and we will be looking for some new, more established players when the Norwegian transfer window opens 1 August. A new striker should replace Koné and we might need another defender and a new winger.
Injury update
On Sunday we will be missing one regular player, Stadsgaard (knee). John Pelu (thigh), Juska Savolainen (foot) and maybe Roar Strand (ancle) are also out. Strand is still the team captain even though he is not a regular in the team anymore. This is his 18th and last season for Rosenborg - a true club legend! He will act like a super-sub (already proved
against arch rivals Molde
) until he retires in November.
Even though we still are hoping to fight for the medals (even gold) in the league, Rosenborg are really keen on getting to the UEFA Cup, somehow saving a so far poor season. Last year our good European campaign did comfort.
Watch Champions League highlights:
-
Qualifying rounds against Astana and Tampere
-
Group stage against Chelsea, Schalke and Valencia
In other words: Ekranas will face a regular RBK line-up:
Rune Jarstein

Fredrik Stoor - Vadim Demidov - Alejandro Lago - Roy Miller

Marek Sapara - Per Ciljan Skjelbred - Alexander Tettey - Abdou Traoré

Yssouf Koné - Steffen Iversen​
By the way, here are some photos for you:
Rosenborg - Vålerenga 1999
Rosenborg - Molde 1999
Rosenborg - Feyenoord 1999
Rosenborg - Borussia Dortmund 1999
Rosenborg - Brøndby 2002
Rosenborg - Lyn 2004 (celebrating the league title)
Rosenborg - Sundsvall 2005
Aalesund - Rosenborg 2005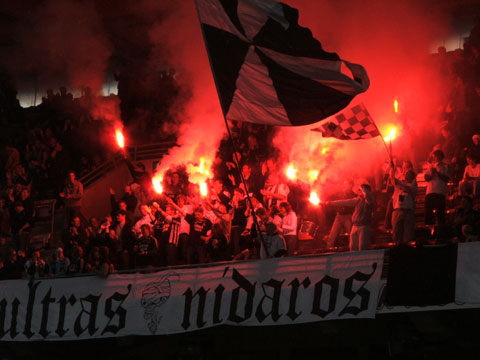 Rosenborg - Lyn 2005
Sandefjord - Rosenborg 2006
Lillestrøm - Rosenborg 2007
Rosenborg - Lyn 2007