Discussion Starter
•
#1
•
Patrick O'Connell - from Collier to Camp Nou
What do Manchester United, Ashington AFC and FC Barcelona have in common?? Irishman Patrick O'Connell represented all three as player or manager during his 45 years involved with Football. Born in Dublin in March 1887, O'Connell played as junior with Dublin team Stranville Rovers before joining Belfast Celtic. He joined Sheffield Wednesday in 1908 and Hull City in 1912. He spent one season, 1914/15, at Manchester United, making 34 league appearances and scoring twice. O'Connell then signed for Leyton Orient in April 1915 but the First World War interrupted his career. During the war he played as a guest player for both Rochdale A.F.C. and Chesterfield F.C.. O'Connell spent the 1919-20 season at Dumbarton F.C. before joining Ashington in 1920.
His first season as a Collier was played out in the North Eastern League in which Ashington finished ninth out of twenty teams. The 1921/22 season saw Ashington elected into the Football League Division Three North, which also saw O'Connell appointed player-coach at Portland Park. O'Connell saw massive changes at Ashington with the clubs league status having changed. The Ground was upgraded from a typical non-league venue containing no more than a simple seated and covered stand to a stadium designed for 20,000. Players added to the squad included Knowles from Manchester United, Thompson from Leeds United and Foster from Sunderland. O'Connell played in the clubs first ever Football League fixture which resulted in a 1-0 victory over Grimsby Town in front of 9,000 supporters. Ashington finished the season in a respectable tenth position in the table with O'Connells last game with Ashington finishing 2-2 at home to Southport.
Not long after his departure from Portland Park, O'Connell was appointed manager of Racing de Santander. He subsequently guided the team to five regional titles and in 1928 they became founding members of La Liga. After one season at Real Oviedo, he joined Real Betis, at the time known as Betis Balompie. In 1935, with a team that included Lecue, he led them to their one and only La Liga title to date. This success attracted the interest of FC Barcelona who appointed him as successor to Franz Platko for the 1935-36 season. O'Connell guided FC Barcelona to the Campionat de Catalunya and the Copa de España final. In the final Barça played Madrid CF and with the Madrid club leading 2-1, Barca were denied a late equalizer after a spectacular save by Ricardo Zamora in the Madrid goal.
During the 1936-37 season La Liga was suspended because of the Spanish Civil War. However clubs in the Republican area of Spain competed in the Mediterranean League and, under O'Connell, FC Barcelona won this title. During the summer of 1937 O'Connell took the club on tour to Mexico and the United States. They played fourteen games and opponents included Club América, CF Atlante, Necaxa and a Mexican XI. In the United States, they entered and won a tournament against a Brooklyn XI, a New York XI and a Hebrew XI. They finished the tour with a game against a USA XI. In financial terms this tour saved the club, but O'Connell returned to Spain with only four players while the remaining players chose to go into exile in Mexico and France.
By the 1937-38 season the Republican area was reduced in size and a second Mediterranean League was impossible to organise. However a Lliga Catalana, featuring just Catalan teams, was organised. Despite a depleted squad, O'Connell and FC Barcelona won both the Lliga Catalana and the Campionat de Catalunya. After leaving FC Barcelona, O'Connell went onto manage Sevilla FC between 1943 and 1945 before serving a second term as Racing de Santander coach between 1947 and 1949.
O'Connell's made five appearances for Ireland and he was a member of the Irish team that won the British Home Championship in 1914. After beating Wales 2-1 away, Ireland then beat England 3-0 at Ayresome Park in Middlesbrough. O'Connell was captain of the team as they clinched the title following a 1-1 draw with Scotland at Windsor Park in Belfast.
Sadly despite such a successful football career, he died destitute in London in 1959, aged 72.
The following poem was written by Peter Goulding:
The Ballad of Patrick O'Connell
He was born in old Ireland in March '87,
Scarce knowing the troubles that fate held in store.
For 'ere he did grace the smooth pitches of heaven,
He found lasting fame on a faraway shore.
Patrick O'Connell, accomplished defender,
United's first captain from Erin's green land,
His playing days over, he kept his agenda,
And his management skills made him much in demand.
He headed to Spain to coach Racing Santander,
As Ireland imploded in fierce Civil War,
And the Catalans took to the wayward Irelander,
As for seven long years he kept them to the fore.
And then he joined Betis where, just two yeas later,
The Championship fell to this gallant young man.
By now he'd no need of a Spanish translator,
Fluent in language and charm and élan.
Then Barca came calling and Patrick responded,
Though the once mighty giants were down on their knees.
As usual, his players became tightly bonded,
With the Catalan championship won by degrees.
When the Civil War broke, he was home on vacation,
But he hurried to Spain to be there with his side.
And they triumphed again to immense adulation,
Despite all the horrors washed upon the tide.
The Barcelona president, a left politician,
Was murdered by fascists and the future looked grim.
Then Franco decreed that next year's competition
Could only be played by clubs loyal to him.
The city in turmoil, all honour diminished,
And murder and mayhem a most constant threat,
No income, no games, Barcelona were finished,
The clubs faced a bankrupting slide into debt.
Then Patrick O'Connell led them from the city,
In order to play on a Mexican tour.
The financial offer was not made from pity,
For the Catalan team were still held in great awe.
Three weeks, it transpired, was too short a duration,
And so it was stretched, as a players' reward.
Returning by boat to a fractious new nation,
O'Connell had only four players on board.
Now Franco was always a Real supporter,
And Barca's officials were quickly replaced.
The logic in that didn't hold too much water,
With talented people just going to waste.
Patrick was ousted, his permit suspended,
Never to see Barcelona again.
Sixty six years since the fairy tale ended,
He still is a hero in that part of Spain.
In London, he passed on, both penniless and friendless,
A tired old man with no will to survive.
But in the Catalan region, his legend is endless,
As the hero who kept Barcelona alive.
http://www.ashingtonafc.com/index.php?page=patrick-oconnell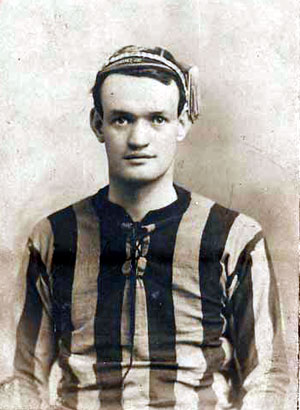 A good reading about O'connell, writing of Jimmy Burns
http://www.irlandeses.org/0803burns1.htm