Discussion Starter
•
#1
•
How on earth is there no thread for the best young British midfielder of the last 30 years?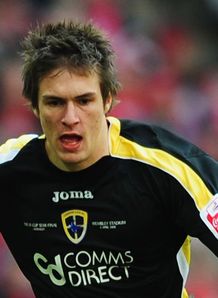 He's essentially Roy Keane and Steven Gerrard's best qualities combined into one, almost superhuman, player.
Captain Stephen McPhail, who plays alongside Ramsey in midfield, says: "He has superb vision and weight of pass. If he keeps working hard he will be a superstar. He likes Roy Keane, but is probably more of a Steven Gerrard type of midfielder as he has everything and can drive forward. He can pick out passes and has an all-round game like Gerrard."
There are few teenage players in the country who come as highly rated as Aaron Ramsey. I've heard the stories of Sir Alex Ferguson asking about his progress; of the leading lights of the Premier League tracking him and tabling bids which start at seven figures. Sometimes young lads with big reputations don't always come up to scratch. With Ramsey, though, that is emphatically not the case.

I watched him in Cardiff's game at Wolves two weeks ago, having tried to scout him previously only to find that he didn't feature. It was well worth the effort and the wait. In fact, having seen him, even in a 3-0 defeat in which he played slightly out of position and was substituted after an hour, I would drive the length of the country to see him again.

The thing that leaps out at you from his game is his appreciation of a pass. It was second to none. When a team-mate received the ball from him, the pass almost told him where his opponent was. It had all the information on it that you would need and it was, invariably, the right ball.

His retention of possession was very good - I could not remember him giving the ball away - but we are not talking here about a player who merely chose the easy option. He was equally adept at simple five-yard passes and marvellously weighted 60-yard diagonals in behind the Wolves centre-halves, which led to scoring opportunities. He works opponents with the ball, creating little angles with his left or right foot and his quality always shone through.

He has a sixth sense telling him where his opponents are. This was reflected in his first touch and the placement of his body, which meant that even when opponents doubled up on him, he managed to escape unscathed from tight areas.

He isn't blindingly quick, nor does he have fantastic body strength but Ramsey has compensated for these shortcomings with non-stop movement. He refused to stand and admire anything he had done and, instead, was constantly alive to the next phase or the next option he could give to a team-mate.

Central midfield is his position, although against Wolves, he played on the right of a five. Such was his desire to get on the ball and make Cardiff play that he drifted inside and there were many occasions when the esteem in which his team-mates hold him was apparent. They were happy to pass the ball up to him, even when he was marked, because they knew that they were giving it to a better player.

He had no problems defensively - he chased and was not afraid to put his foot or head in where it hurt - but I prefer to concentrate on what he can do with the ball. There is an easy rhythm to his game and an awareness of how to hurt opponents with passes. There is no doubt that Ramsey has a big future and I hope that a global audience for the FA Cup final on Saturday week will have the same privilege of watching him that I did.

Age 17

Born Caerphilly

Position Midfield

Height 5ft 10in

Weight 10st 7lb

From Trainee

Pace 8/10

Passing 10/10

Tackling 8/10

Crossing 9/10

Team responsibility 8/10