El Tri to kick off 2011 US tour in Atlanta
---
Mexico will take on Bosnia-Herzegovina on Feb. 9 at Georgia Dome
Tri fans in Atlanta, mark your calendars for Feb. 9. The Mexican national soccer team is coming to town to kick off their 2011 US Tour and 2014 World Cup cycle against Bosnia-Herzegovina.
The match – to be played in Atlanta's Georgia Dome at 8 p.m. ET – will mark El Tri's second-ever visit to Atlanta.
"What better way to start this new cycle of the Mexican national team," said Mexican soccer federation general secretary Decio de María in a statement. "I'm sure the fans will enjoy this important event, because it means the beginning of our preparation for the 2011 sports competitions, such as Copa America and Gold Cup, and the start of the World Cup qualifiers."
http://www.mlssoccer.com/news/articl...s-tour-atlanta
Should be an awesome match!
Mexico to play Paraguay in Oakland, Calif.
MEXICO CITY/NEW YORK – The Federación Mexicana de Fútbol (FMF), together with Soccer United Marketing (SUM), have announced that the second stop for the Mexican national team's 2011 U.S. Tour will be Oakland, Calif.
The widely popular "Tri" will host Paraguay's national team on Saturday, March 26 at 5 p.m. ET at the Oakland-Alameda County Coliseum.
An exclusive pre-sale for San Jose Earthquakes season ticket holders and other special groups will begin this Friday, Jan. 14 at 1:00 p.m. ET by calling the Earthquakes at 1-408-556-7700 or visiting their ticket office during regular business hours. For group tickets or suites, please contact the Earthquakes.
Tickets for the general public will go on sale on Friday, Jan. 21 at 1 p.m. ET by visiting
www.Tickets.com
, by calling 1-800-225-2277 or visiting usual tienda locations.
Scheduled on a FIFA fixture date, this match will mark Mexico's return to Oakland after almost two years, when they defeated Nicaragua 2-0 at the Coliseum during the group phase of the 2009 CONCACAF Gold Cup.
Mexico and Paraguay last face off at Copa America 2007, where El Tri secured the quarterfinal win.
http://www.mlssoccer.com/news/articl...-oakland-calif
Premier Player
Teams:
MEXICO Chivas Bayer Leverkusen Porto PSV
List of players called up for friendly vs Bosnia on Feb 9th.

GK:
Jesús Corona (Cruz Azul)
Alfredo Talavera (Toluca)

DF:
Paul Aguilar (Pachuca)
Iván Estrada (Santos)
Francisco Javier Rodríguez (PSV)
Édgar Dueñas (Toluca)
Jonny Magallón (Guadalajara)
Héctor Moreno (AZ Alkmaar)
Jorge Torres Nilo (Tigres)
Carlos Salcido (Fulham)

MD:
Gerardo Torrado (Cruz Azul)
Israel Castro (Pumas)
Jesús Zavala (Monterrey)
Giovani dos Santos (Racing)
Antonio Naelson "Sinha" (Toluca)
Luis Pérez (Monterrey)

ST:
Édgar Pacheco (Atlas)
Pablo Barrera (West Ham)
Néstor Calderón (Toluca)
José María Cárdenas (Santos)
Aldo de Nigris (Monterrey)
Javier Hernández (Manchester United)
Mexico top Bosnia in de la Torre's coaching debut

Corona solid in goal as Tri take advantage of errors to win 2-0
A blooper goal and a highlight reel of saves from Jesús Corona led Mexico past Bosnia 2-0 on Wednesday night in front of 50,507 in Atlanta's Georgia Dome to give new Tri coach José Manuel "Chepo" de la Torre a win in his first game at the helm.
The tallies came by way of a Miralem Pjanic own-goal in the 47th minute and Édgar Iván Pacheco in the 55th.
The first half was full of action and marked by good chances and great interventions from both 'keepers. Six minutes in, Pacheco surprised the Bosnian defense with a quick chip off a set piece to Javier "Chicharito" Hernández, who failed to slot home with just Kenan Hasagic to beat.
http://www.mlssoccer.com/news/articl...coaching-debut
Great game both attacking teams that try to score. They play here in Atlanta were i live couldn't get hold of a damn ticket and wasn't bother since every time i have gone and seen Mexico play game has been boring and we end up losing.

My bro told me it was great atmosphere and there were a lot of of people from Bosnia not just Mexicans.
J.J. Corona - great game by him, MoM for me have some great saves that should have been goals.

H. Moreno - good game by him.

Maza - same as Moreno very solid.

Aguilar - nothing spectacular but did his job.

Salcido - on eof our better players and had great understanding with Pacheco.

Torrado - very quiet game.

Castro - same as Torrado.

Barrera - expected more from him, beat his man easy but we didn't attack much from the right side.

Pacheco - second best player after Corona, great debut and great goal, this kid is going to be special.

Dos Santos - quiet game but not surprise since he hasn't been playing regular football in Europe. Great assist for Chicharito who missed.

Chicharito - very bad game from him, didn't make the right decision, missed two open goal opportunities and missed the PK. He was trying to do too much since he is the star now for Mexico he should relax and enjoy the game and not try to do eveyr thing by himself.
Mexico finally has reasons to smile—at least in sports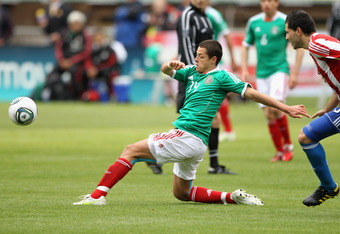 In the second game of the José Manuel de la Torre's era, El Tri defeated Paraguay 3-1 at Oakland, California.
Javier "Chicharito" Hernández (7th, 34th) and Andrés Guardado (28th) secured the victory for Mexico in the first half, while Cristian Riveros (86th) made the score more respectable for Paraguay in the last minutes of the game.
http://bleacherreport.com/articles/6...ncacafs-giants
MEXICO: Venezuela proud of its fight
SAN DIEGO -- Javier "Chicharito" Hernandez isn't going to score every time he takes the field, and when he failed to finish Pablo Barrera's feed at the start of Tuesday night's Mexico-Venezuela friendly at Qualcomm Stadium, it signaled he wasn't at his sharpest.
Hernandez, who would have put the ball away on Saturday, when he scored twice in El Tri's victory over Paraguay in Oakland, has become so automatic that it's almost more perplexing when he misses, no matter how difficult the chance.
Hernandez's inability to finish, therefore, had plenty to do with the result: a 1-1 draw that might have flattered Venezuela a little, but not too much. The South Americans' organization and ability to pressure Mexico's backs was impressive; their ability to do so in front of 60,808 green-shirted fanatics is something they can build on when Copa America begins in July in Argentina.
http://espn.go.com/blog/los-angeles/...d-of-its-fight
I don't like Osorio, I think he should be banned for his disgraceful performance at the WC making silly and simple errors.
I think the main guns will be Chicharito (who will get the full 90 minutes in all the vital matches), Barrera, and Juarez. Awesome cast.
I haven't seen Santos in a long while, he'll probably be okay. Guardado and Torrado will play their usual game.
Interesting to see what happens. Marquez no doubt, will be solid in Copa.
Perhaps there will be room for revenge if Argentina and Mexico were to meet again
Currently Active Users Viewing This Thread: 1

(0 members and 1 guests)