Premier Player
Teams:
PALIO PASOK! (to orthodoxo*), +Olympiacos, Greece
@
GRChinChanChon
Tetoia mpam oute ston polemo to '40 file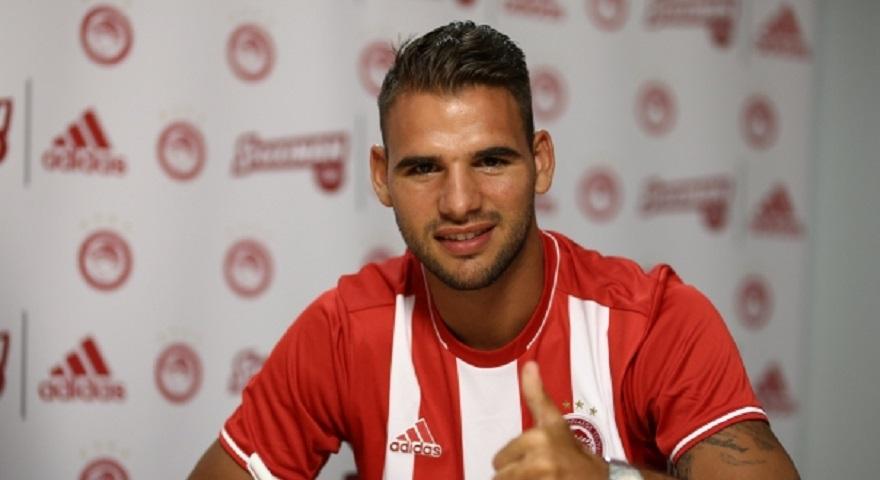 Joking aside a nice transfer and another Greek player after Siopis, Koutris and Risvanis (I like all of them and as far as I'm concerned Hasi was satisfied especially by Siopis and Koutris which means they are going to have a major role in the squad next year (De la Bella might be on his way out).
Latest reports say we're after Carcela from Granada, Emenike from fener and Ofoe from Legia. Also we sent on loan Bouchalakis to Nottingham who will be joining Vellios there and Konstantinos Tsimikas to Willem.
Yet we lost Kampetsis to BVB cause his father wanted him to have a 100K yearly salary and we were offering 30K. Disappointing taking into account he was projecting to be the second biggest prospect behind Retsos (another one who is likely to be sold in a Bundesliga club - apparently both him and Kampetsis are in contact with the man who brought Sokratis to BVB. We've turned down some offers, makes me think the plan is to qualify in the CL so his value will be exploded. Btw not really related (at least anymore) but Lykogiannis who was constantly sent on loan to Levadiakos and Ergotelis is now projecting to sign for S.Ettiene..
---
Tha Seveste!
Premier Player
Teams:
PALIO PASOK! (to orthodoxo*), +Olympiacos, Greece
Regarding the other branches of the club (bbal, volleyball and water polo) things look in all of them. In basketball I expect us to reach the F4 again and hopefully with the fans in our side this time, to win the cup we deserved to win both in 2015 and 2017 but had to play the final game in the host's homecourt.. (and Euroleague's beloved teams at the same time)
We have also made some quality signings in volleyball which makes me think we have a good opportunity winning the Challenge Cup in which we're going to take part next year. Same case with water polo, the quality of the team is enough to reach the f-6 the CL and capable of winning it. We'll surely be one of the main favorites next year as well.
On another note the handball branch was established last week
---
Tha Seveste!
Dynath omada xtisame. Kalymenoi se 8eseis mesoepi8etikwn/box to box/amyntikwn meswn/fullback/terma. Ta pio polla sto tzampa vevaia kathws koutrhs(back up tha einai profanws)/Gianniwths/Ben(back up tou Emenike)/ Tachtsidis/ Siopis irthane me mhdenika xrhmata ston Olympiako.
Gnwmh mou gia ton Tachtsidi epeidh eimai apo to Nafplio, kai prin ligo kairo agorase thn omada Pannafpliakos, ithele na epistrepsei sthn ellada gia proswpikous tou logous. Den ekshgietai alliws na afhnei thn Italia kai na min exei endiaferthei kamia allh omada apo ta megala prwtathlimata gia kapoion toso fthno , value for money , paikth.

Retsos legetai pws einai sto dromo gia allou, opote sta Centerback , apo tote pou efyge kai o Manolas, den exoume dei swiko paikth, mexri pou fanhke aftos. Exoume thema. Kai tha fanei enantiwn kalwn omadwn , oti o Romao den einai CenterBack kai den mporei na aksiopoihthei teleia ws teleftaia (h proteleftaia pes to opws thes :P) grammh amynas. Einai 6ari, alla afou exoume mazepsei ola ta 6aria tou kosmou se ena club kai o paikths apodidei, kapou prepei na paizei.

O ben me partizan party ekane, me thn rijeca oxi toso kalos. Tou dwsane vevaia kai ena offside to opoio den htan, kathws kai nikhse kai penalty pou den tou edwsan. Tha doume. Kalh fainetai h arxh ths sezon. Pistevw isws psi8oun kai alloi paiktes afou perasoume omilous.
AEK- 3
Olympiacos- 2
Currently Active Users Viewing This Thread: 1

(0 members and 1 guests)