BANNED!
Rising Star
Teams:
RWD Molenbeek - 1. FC Köln - Rotherham United FC
Russia2018 #JoieDeFoot
---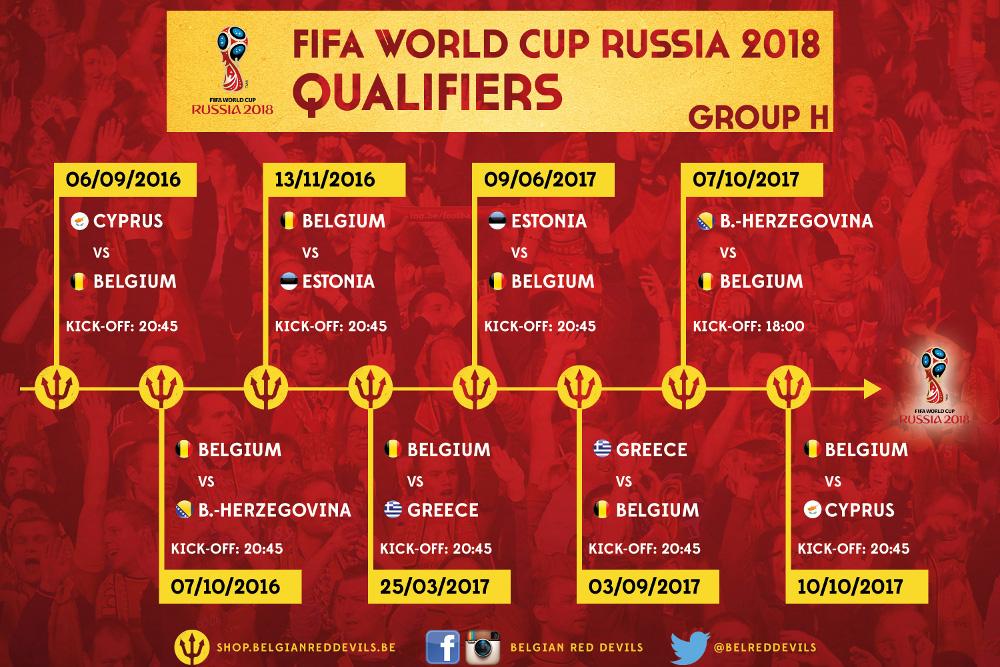 ...
Wiki
+ Gibraltar ... away (10/10/2016) and home (31/08/2017) ...
their recent results
Cyprus ...
recent results
Estonia ...
recent results
Greece ...
recent results
BiH ...
recent results
... and our
recent results
Our FA preferred a younger manager ... who's more in touch with the current generation of players ... above all else, a manager that will work for peanuts ... #WilmotsOut and #MartinezIn ... also I'm very happy that Henry will join us and guide our strike force ... mainly because Wilmots was content to do fvck all about our young strikers that didn't deliver and he just wanted to wait until they had enough experience to figure it out for themselves #wasteful ... Henry has his work cut out for him. Martinez, Jones and Henry deserve to be given time to prove themselves ... they might do a magnificent job, they might not ... in any case it will be entertaining and I'm excited to see a very aggressive, open Belgium up there with the big boys:
With all due respect to the old farts that didn't get the job ... geezers like Van Gaal, Hiddink and Lippi ... the past ... what I want for the future is exciting, stylish, fluid, courageous, sophisticated ... it's sparkling, it's free-flowing, it's attacking football.
Quote:
"Pep Guardiola and Roberto Martinez are often considered to come from the same school of coaching, with Martinez bringing an entertaining passing style to his sides to emulate the great free-flowing Barcelona and Bayern Munich sides of Pep."
Both Guardiola and Martinez are disciples of Cruijff ... in that sense, they are in the same mould ... just nowhere near the same level and success. Martinez was being hailed as the coming man ... sure that has cooled down ... still our team presents a great opportunity to redeem himself and he does well in cup competitions ... that's what matters to us. Despite his defenses being far from awesome, build-up play has been a joy to watch ... and it doesn't take long to warm to him ... as he is a charming basterd
Looking at the highest paid NT managers (from the usual suspects within UEFA) ...
England.......Allardyce
Italy............Ventura
Turkey........Terim
Germany.....Löw
Spain..........Lopetegui
France........Deschamps
Russia........Cherchesov
Holland.......Blind
That's by no means a thrilling list ... and those that weren't dismissed had to digest plenty of criticism. Hodgson was paid between 6 to 7 times more than Wilmots ... it wouldn't be a big surprise when Allardyce's salary turns out to be 6x that of Martinez ... Holland probably will spend 3 to 4 times as much as we do ... while the other NTs on this list have even more money to throw around. I'm reconsidering my initial reaction ... compared to the others ... Martinez, Jones and Henry on the cheap looks like the best value for money.
Martinez made his first selection public ... for the friendly with Spain in Brussels (01/09) and the first qualifier against Cyprus in Nicosia (06/09)
BANNED!
Rising Star
Teams:
RWD Molenbeek - 1. FC Köln - Rotherham United FC
BANNED!
Rising Star
Teams:
RWD Molenbeek - 1. FC Köln - Rotherham United FC


What! Martinez lost a friendly on his debut against Spain and after 3 FULL training sessions ... Henry to take over, please. Wilmots left Martinez a team that needs a lot of work ... the likes of Spain, Germany or Italy already/always have a solid foundation to build on ... Martinez will have roughly 2 years to turn us into a competitive team ... patience and give KDB, Hazard, et al. a thorough kicking up the backside because they performed well below their club level ... need to deliver in the next tie ... with Wilmots there often used to be a performance drop-off in the 2nd tie of a double-header.
---
Last edited by Foefke; September 2nd, 2016 at

10:18

.
BANNED!
Rising Star
Teams:
RWD Molenbeek - 1. FC Köln - Rotherham United FC
Benteke ... fastest goal ever scored in a World Cup game ... mmm yeah


Currently Active Users Viewing This Thread: 1

(0 members and 1 guests)