The Tree
---
While eating at a kebab shop late one night, I was leafing through a newspaper when the above image caught my attention.
A match was taking place at the Estadio Nacional de Chile, but there was a tree on the pitch (!). It was an installation by
Sebastian Errazuriz
commemorating the political prisoners who were tortured at the same ground 30 years earlier at the orders of Augusto Pinochet. For a week the stadium was open to the public as a park and for the finale a match was played in front of 15,000 people. All proceeds during this period went to the
Alter Ego Foundation
.
I should mention that from the few comments I have read, there were mixed emotions about this work in Chile. Not everyone saw it as a respectful tribute. I reserve any judgements about this particular aspect of the installation. For me it carries other meanings as well. Without getting too philosophical I want to say that the tree is a powerful symbol and when superimposed with the beautiful game it does make an impression. The combination of things as worldly as football and a tree can conjure many meanings...
Take a moment to reflect on the beauty of the tree and the power of the game.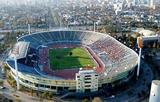 You mean they played a match with the tree on the pitch? That's pretty cool
---
La Juve? Lasciamo perdere.
Third Place winner, October 2012 XT Photo Contest
Forum Manager
Xtratime Legend
Teams:
Real Madrid & La Furia Roja
Quote:
You mean they played a match with the tree on the pitch? That's pretty cool
must be bugging when the ball everytime gets stuck in the crown. And everytime a ballboy has to climb the tree that they can continue playing.
---
Quote:
Originally Posted by Santiago Bernabeu
The Real Madrid shirt is white it can stain of mud, sweat, and even of blood but never of shame.
Hala Madrid ... y nada mas.
Currently Active Users Viewing This Thread: 1

(0 members and 1 guests)