Atlanta United Football Club
---
Atlanta Falcons president says team inching closer to Major League Soccer expansion franchise
EXPANSION PROGRESS IN ATLANTA
In one of the clearest indications yet that Atlanta could be next in line of a Major League Soccer expansion franchise, Atlanta Falcons President Rich McKay told local officials Thursday that his side is "far along in negotiations" with MLS about bringing a team to the city, the league's first foray into the Southeast outside of Florida in league history. The Falcons want a soccer team to play at a new $1.2 billion retractable-roof stadium that will break ground just south of the Georgia Dome sometime in the spring.
http://www.mlssoccer.com/news/articl...league-soccer-
---
Last edited by EPJr; July 1st, 2015 at

23:53

.
The Atlanta Journal-Constitution
A Major League Soccer expansion franchise is coming to Atlanta.
An announcement is scheduled for April 16 in Atlanta, a person with knowledge of the situation said Sunday. The Atlanta team would become the 22nd franchise in MLS and would open play in 2017, which is also when the new $1 billion downtown stadium is scheduled to open.
Falcons owner Arthur Blank has been pursuing a franchise for several years. Both sides have acknowledged that they have been in deep discussions but neither seemed to have a timetable.
A Major League Soccer official issued this statement on Sunday: "We are continuing discussions with Arthur Blank to bring a Major League Soccer expansion team to Atlanta; however, we have not finalized an agreement at this time."
http://www.ajc.com/news/sports/pro-s...atlanta/nfSzm/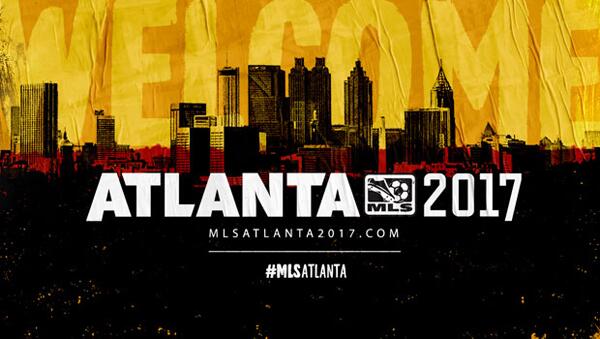 MLS is headed to the ATL.
Major League Soccer Commissioner Don Garber announced on Wednesday that Atlanta has been awarded the league's 22nd team, the culmination of six years of courtship between the league and the one of the nation's most diverse and influential markets.
The expansion team – which will begin play in the 2017 season – will be owned by Arthur Blank, the co-founder of The Home Depot and the owner of the NFL's Atlanta Falcons. A state-of-the-art retractable roof stadium in downtown Atlanta will house both the Falcons and the new MLS franchise, and is expected to host more than 29,000 fans for soccer matches upon its completion.
http://www.mlssoccer.com/news/articl...set-2017-debut
---
Last edited by EPJr; April 17th, 2014 at

00:42

.
"Atlanta Phoenix" wins fan vote for Atlanta's MLS expansion team name
http://boards.sportslogos.net/topic/...a-mls-concept/
The Atlanta Phoenix — how does that sound to you?
Because to nearly 26 percent of Atlanta Business Chronicle readers, it's the best name suggested thus far for Major League Soccer 22nd team, which was announced two weeks ago.
In a poll conducted over the weekend, the Business Chronicle offered up a whole host of names for the club, brought to you by readers, fans and marketers alike.
Other top choices, according to the poll? Premier Atlanta (more than 15 percent) and Atlanta Blaze (nearly 12 percent).
"Phoenix" — referring to a bird, not the city in Arizona — would fall in line with the bird-named theme of Atlanta's Falcons (NFL) and Hawks (NBA).
http://www.mlssoccer.com/sideline/ne...sion-team-name
Groundbreaking a Significant Milestone for New Atlanta Stadium
Atlanta, GA – History was made tonight when the Atlanta Falcons together with representatives from the NFL, Major League Soccer, the City and State broke ground on the new Atlanta stadium set to open in 2017. The new $1.2 billion multi-purpose stadium will be a state-of-the-art, iconic sports and entertainment complex designed to attract world-class sports, civic, cultural, and commercial events and serve as a landmark for the city of Atlanta.
http://www.reddit.com/tb/2616ta
Charged with building a brand new club from scratch, Carlos Bocanegra and Darren Eales know exactly what they've gotten themselves into.
The duo has been tasked with creating a team, an experience, a brand. But for the two, the process of building MLS Atlanta is about so much more; it's about building a culture all their own.
As the team's president and technical director, respectively, Eales and Bocanegra face many choices ahead, everything from hiring a coach to selecting players to choosing what types of food to serve at the club's inaugural match in 2017.
For the pair, each and every one of those decision comes with consequences, but each is met head on with considerable enthusiasm. For Bocanegra, every decision made has an impact, one that can help institute something special, something new, in a city that the pair believes has all the makings of America's next great soccer city.
http://www.sbisoccer.com/2015/05/atl...g-success.html
---
Last edited by EPJr; May 25th, 2015 at

20:05

.
Forum Manager
Xtratime Elite
Teams:
Hajduk Split, Derby County
looks like their name will be
Atlanta United FC
Pretty boring an unoriginal
Forum Manager
International
Teams:
Bosna i Hercegovina, FK Velez, Juve
Quote:
looks like their name will be
Atlanta United FC
Pretty boring an unoriginal
Better than having Atlanta Phoenix, which 95% of people would confuse for just two cities and not a club name.
---
"Sac is the Great White Bosnian Hope, so go easy on him."
- Firdaus
Currently Active Users Viewing This Thread: 1

(0 members and 1 guests)