2013 World Football in the USA
---
MANCHESTER CITY, CHELSEA HEADING TO ST. LOUIS IN MAY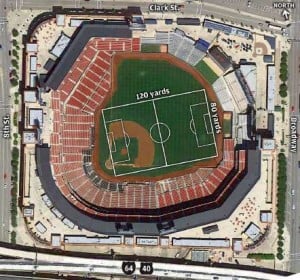 The St. Louis Cardinals are set to announce later today that EPL powerhouses Chelsea and Manchester City will play an exhibition match at Busch Stadium on May 23, just four days after the EPL season finishes. "We hope at minimum this will be an annual event, that we can bring two great international teams or the US national team and play here in Busch Stadium," said a Cardinals spokeswoman. Watch out for those curve balls, Peter Cech.
http://www.stltoday.com/sports/other...3300f2ea5.html
LA Galaxy to Play in Inaugural
Guinness International Champions Cup
CARSON, Calif. (Wednesday, April 17, 2013) – The LA Galaxy announced today that the club will take part in the inaugural Guinness International Champions Cup, an eight-team tournament that will take place throughout the United States this summer. In addition to the Galaxy, the tournament will also feature Italian giants Inter Milan and Juventus as well as Spanish power Real Madrid.
The four remaining teams that will compete in the tournament will be announced on Tuesday, May 7 while a complete schedule of games for the Galaxy and all other teams will be announced at a later date. More information about the tournament can be found online at
www.internationalchampionscup.com
.
Currently Active Users Viewing This Thread: 1

(0 members and 1 guests)