inbred amoeba
Star Player
Teams:
the Toothless Lions
България - Italia, euro 2016 qualification, on March 28, 2015
---
Our next qualie for Euro 2016 is going to be against Italy in Sofia in one month's time. Nobody really knows who Petev will summon for his first official match as the NT manager. I am particularly curious to see who would be entrusted to play as central defenders. Having in mind that Dyakov is not fit and in declining form, the central midfield composition is also wide open.

Conte said he would summon two debutants - Vazquez from Palermo and Zappacosta from Atalanta. Honestly, I have never watched the latter.

A bit of spicy historical context here - our NT have lost our only semifinal at world cups in 1994 against Italy. After the game, Stoichkov said that God was still a Bulgarian (a phrase celebre of a Bulgarian commentator after we had eliminated France in the very last minute of our last WC 1994 qualification game played in Paris), but the referee was French. We then claimed the French referee Joel Quiniou helped the Italians by not giving us a clear penalty for handball by Costacurta in the area. Warm memories...


inbred amoeba
Star Player
Teams:
the Toothless Lions
Petev is having hard times trying to find 11 players in decent shape three weeks before our match against Italy. At this time, only a few positions seem to be filled in with sure starters:

1. GK - it is going to be Vlado Stoyanov, no doubt about that. He is solid and the best Bulgarian goalie by a margin. Mihaylov doesn't play regularly at Mersin, and he might even be omitted in the group of 23 (Mitrev and Makendjiev were tried in the last friendly against Romania and did well, at least one of them will be summoned).

2. Right back - I expect Manolev to be preferred here. Stahil Popov, who is in fine form is almost sure to be the backup called up by Petev.

3. CDs - I don't have the faintest idea who they should be. Ivan Ivanov from Basel is missing out for sure as he got a medical ban to play competitive football at least until April 15. Bodurov has been burried down in England at Fulham, who are just awful in defense. Terziev from Ludogorets will get an invitation for sure; Stoychev from Levski (in good shape) and Alexandrov from Ludogorets might be the others. We will be vulnerable in this part of the field, though, no matter what the CD line would look like.

4. Left back - it may be Misho Venkov from Litex to take the starting spot. Zanev (Amkar) is injured. The backup is just missing; I would take a risk and call Miki Orachev, although he is a bench-warmer at Levski.

5. Midfield. Everybody expect Petev to stick to 4-2-3-1. If there are no surprises in terms of the tactical scheme chosen, the DM shall almost certainly be Gadjev from Levski and Dyakov from Ludogorets. Slavchev doesn't get playing time even at Bolton, so he will be a substituion in the best case. In front of the two DM, Milanow (CSKA Moscow) looks like a sure starter. Misho Alexandrov (Ludogorets) started as a left AM in the friendly against Romania, which is not his usual position. He is not at his best either, but I don't see anyone else close to being a decent match for the Italian defense :shakepalm:. So, he will probably step in. There is room for an absolute surprise here, and we might evidence the official debut of one of the Litex young guns Nikola Kolev or Kristian Malinov in the offensive line. In that case, any other scenario is possble, e.g.: Alexandrov being moved to the right and Malinov playing on the left; or Malinov in the centre while G. Milanov being moved to the right etc.

6. Centre Forward: it will probably be Galabinov, simply because we don't seem to have anyone better, who is willing to play for the NT...
inbred amoeba
Star Player
Teams:
the Toothless Lions
Petev reveals the 10 foreign-based players he has summoned for the Italy game:
GK Mihaylov (Mersin)
CB Bodurov (Fulham)
RB/RW Manolev (Kuban)
LB Zanev (Amkar)
AM Chochev (Palermo)
CM Slavchev (Bolton)
AM/LW Tonev (Celtic)
AM Ivelin Popov (Kuban)
AM Georgi Milanov (CSKA Moscow)
CF Mitsanski (Karlsruher).
Mitsanski and Zanev just returning from injuries without any game practice
A new Madam, the same old Whores
inbred amoeba
Star Player
Teams:
the Toothless Lions
Petev brings Bozhinov and Bandalovski back to the NT... Nobody here really seems to know how is Bandalovski doing at Partizan Belgrade, but there should be a good reason for Petev to have him back, as he is generally known as a head case trouble maker
alm:. Bozhinov is handling his divorce right now and probably not at his best mental condition.
The full list of Petev:
GK:
Mihaylov (Mersin)
Stoianov (Ludogorets)
Mitrev (Loko Sofia)
Defenders:
Vasilev (CSKA Sofia)
Iliya Milanov (Litex)
Al. Alexandrov (Ludogorets)
Terziev (Ludogorets)
Minev (Ludogorets)
Bodurov (Fulham)
Zanev (Amkar)
Bandalovski (Partizan)
Midfield
Manolev (Kuban)
Chochev (Palermo)
Slavchev (Bolton)
Georgi Milanov (CSKA Moscow)
Dyakov (Ludogorets)
Gadzhev (Levski)
M. Alexandrov (Ludogorets)
Malinov (Litex)
FW
Tonev (Celtic)
Popov (Kuban)
Mitsanski (Karlsruher)
Bozhinov (Ternana)
I wonder if any XT members are going to the game. Planning to buy tickets tomorrow. Would be nice to see the game and have a couple of beers afterwards.
---
Last edited by Beaux Balkans; March 20th, 2015 at

14:08

.
Milanov injured yesterday, didn't look good.
---
Œuvres complčtes de Fikret Smiljanić
inbred amoeba
Star Player
Teams:
the Toothless Lions
Zanev also got a knock. Bozhinov with a viral infection - played only 15 min for Ternana yesterday.

EDIT: Georgi Milanov is likely to recover in time for the game on Saturday, but his brother Iliya Milanov is definitely out. Petev includes Radoslav Vassilev from Slavia as a backup for Georgi Milanov (in case he cannot play) and Borko Stoychev from Levski as a backup of Iliya Milanov.
---
Last edited by Beaux Balkans; March 24th, 2015 at

08:56

.
inbred amoeba
Star Player
Teams:
the Toothless Lions
Mihaylov
alm:
Manolev Al. Alexandrov Bodurov Minev
Dyakov Gadjev
Milanov Popov M. Alexandrov
Mitsanski
Forum Manager
World Class Player
Teams:
PSV, Oranje, Macedonian NT
2-2
You guys must be happy with that result considering the lead-up to the game
inbred amoeba
Star Player
Teams:
the Toothless Lions
The first half our team was joy to watch, with some good stuff in passing at high speed. In the second half, our boys got out of fuel, and Italy could have easily taken this one had they had better finishing. Our defense lacks class in this composition, the only exception being Manolev. I still believe there are much better options available...
Highlights:
http://vbox7.com/play:2b505e089a
inbred amoeba
Star Player
Teams:
the Toothless Lions
The son of our Football Union chairman (and freshly re-elected member of the UEFA Executive Committee) Mihaylov was comical last Saturday, but Petev still claims Vlado Stoyanov 'is not at the level he shows for Ludogorets in the NT'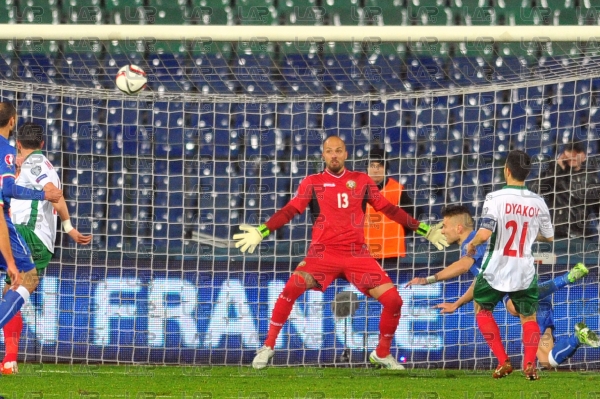 The crowd at the stadium had good fun cheering for him, though. Value for our money...
Currently Active Users Viewing This Thread: 1

(0 members and 1 guests)