Forum Manager
Star Player
Teams:
Toronto FC, Fiorentina, Barça
The 2014 Toronto FC thread
---
Toronto could host Winter Classic in 2017
ANN ARBOR, Mich. – A complicated and costly deal is in the works that would see Toronto's BMO Field significantly expanded in time for the Maple Leafs to host the Winter Classic in their centennial season, Sportsnet has learned.
Maple Leaf Sports & Entertainment has held high-level discussions with the municipal, provincial and federal government and believes that they are all on board with renovating the six-year-old stadium, according to president and CEO Tim Leiweke. The driving force behind the proposed expansion is a desire to hold major events like the Winter Classic and NHL sources indicate that Toronto is in line to land the signature outdoor game should the building's capacity be increased.
Leiweke insists that won't be an issue if the league is committed to bringing the game to a Canadian city for the first time ever – likely in concert with the Maple Leafs' 100th anniversary season in 2016-17.
http://www.reddit.com/tb/1u5ain
---
Last edited by EPJr; January 18th, 2014 at

19:31

.
Forum Manager
Xtratime Elite
Let's hope not.
---
A VENCER DESDE 1893
Oh lampião, levaste 5 no Dragão, nunca te esquecerás desta grande humilhação!
16:01 kat
*little pillows wrestling is another thing Josh does, when he is drunk *
Report:
Toronto FC "on the verge of signing" USMNT midfielder Michael Bradley
Toronto FC are in the midst of a busy offseason, with one blockbuster deal done and another pending.
A third – one that will move the needle in a big way throughout MLS – is now reported to be complete.
ESPN analyst Taylor Twellman reported on his Twitter account on Wednesday that TFC are "on the verge" of signing US national team and AS Roma midfielder Michael Bradley. Bradley, who began his career in MLS back in 2004, has played overseas since 2006 including star turns for Heerenveen, Borussia Mönchengladbach and Chievo Verona before moving to the Eternal City 18 months ago:
Minutes after Twellman's tweet, fellow ESPN analyst Alexi Lalas also tweeted that he had confirmed the move:
Later on Wednesday afternoon, the No Short Corners blog, which focuses on Americans in Europe, confirmed that the deal is in the works, and ESPN The Magazine's Doug McIntyre tweeted the deal was completed.
Doug McIntyre @DougMacESPN
Follow
Source tells me that Michael Bradley to @torontofc is a done deal. Just, Wow. #usmnt
http://www.mlssoccer.com/news/articl...ichael-bradley
Forum Manager
Xtratime Elite
and don't forget, Jermain Defoe. To be made public on Monday if reports are to be believed.
---
Lex Immers - Pace & power. Holland's #1 box to box player
Feyenoord forum - the place to talk about this phenomenon
Ronald Koeman "Oranje kan Immers goed gebruiken"

Fred Rutten "Feyenoord heeft Immers nodig"

Van Marwijk over Lex Immers: 'Stille kracht van Feyenoord'

John de Wolf "Dat is nou precies de aanjager, het 'etterbakkie' in het veld dat Feyenoord in dit soort wedstrijden nodig heeft"


Michael Bradley, Jermain Defoe
couldn't resist "being part of something special" at Toronto FC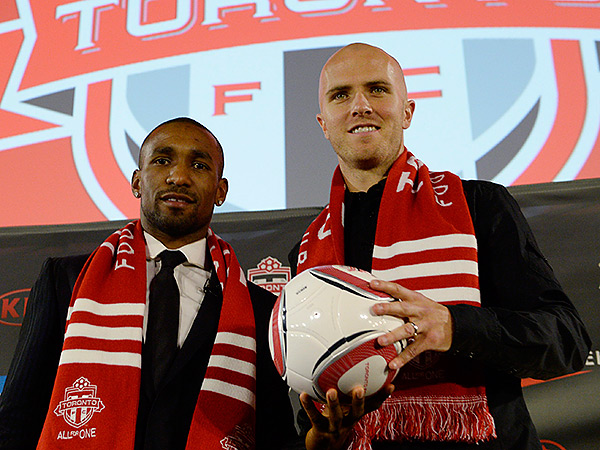 TORONTO – Monday's press conference to introduce Jermain Defoe and Michael Bradley was billed to Toronto FC fans and media with the tagline "It's a Bloody Big Deal."
Turns out TFC's newest Designated Players were in complete agreement.
Both Bradley and Defoe admitted they had other options with clubs in Europe, but both were also quick to state that they simply could not turn down the opportunity to be part of something they perceived as "really special, something unique and something different," as Bradley put it, that is now being built in Toronto by TFC head honcho Tim Leiweke, general manager Tim Bezbatchenko and head coach Ryan Nelsen.
"As a player, you want to be a part of something like that and at a place where the people share your ambition, you goals and your drive," said Bradley, whose signing was made official on Monday. "It took all of two seconds for me to understand that I was going to be coming to place where I would be surrounded by people with that motivation and commitment."
http://www.mlssoccer.com/news/articl...rt-something-s
---
Last edited by EPJr; January 14th, 2014 at

00:15

.
Toronto FC to partner with Wilmington Hammerheads of USL Pro
According to Duane Rollins at Canadian Soccer News Toronto FC are close to announcing another big deal. This one has nothing to do with players as the club is set to form an affiliation with the Wilmington Hammerheads.
The reported partnership would open the door for up to four TFC players to go on loan to the USL club for the duration of the 2014 season. Such a move would allow the four young Canadians to actually have the chance to get meaningful minutes that will be crucial in continuing their development.
http://www.reddit.com/tb/1utrfv
The Carls-Rite Cup and the Birth of the
Toronto – Montreal
Rivalry
The Toronto-Montreal rivalry is one of the most hotly contested in North American soccer at the moment. Over the past few years the Montreal Impact and Toronto FC have played each other in plenty of memorable matches. The rivalry between the teams has spilled over to the fan bases and has built on the animosity that already existed between the cities' other sporting teams.
The rivalry between the Montreal Impact and Toronto FC is just one of many that has existed between soccer teams from these two cities over the years. The origins of this rivalry go back to the early 20th century with humble beginnings in the form of an amateur all-star game, the Carls-Rite Cup.
The cup named after its donor, the famous Carls-Rite hotel in downtown Toronto, was first contested in 1914 and was contested every year there after until 1931 (with the exceptions of 1918 and 1926). Toronto and Montreal selected all-star teams from the best players playing for amateur clubs in each city to face off a two-legged affair. From 1927 onwards the format was changed slightly to a single match rotating annually between Montreal and Toronto (in the case of a tie the previous winner retained the cup).
http://www.rednationonline.ca/Articl...farivalry.aspx
Forum Manager
Xtratime Elite
Teams:
Hajduk Split, Derby County
Nelsen fired, former US international Greg Vanney is new manager. He was Toronto's academy coach

Jermaine Defoe also might leave the club, he has interest from some EPL clubs
Currently Active Users Viewing This Thread: 1

(0 members and 1 guests)