Forum Manager
International
Group D Match 1 - Andy Christ vs pele10brazil
---
Andy Christ vs pele10brazil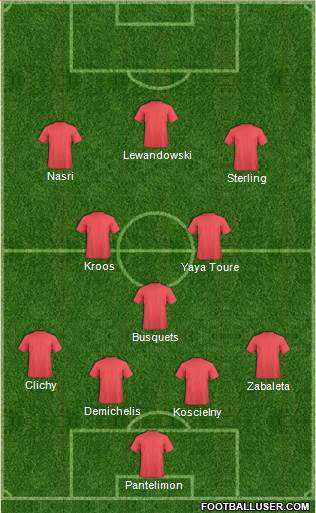 ----------------------------------------------------------------------------------------------
Legend
Teams:
Juve, Italy, USMNT
Canonized
Xtratime Legend
Teams:
TIMAO & Selecao Canarinha
andy christ 2 x1 pele pede
Xtratime King
World Class Player
Teams:
Romania,Real Madrid,Universitatea Craiova
Is everybody out of their mind?
This tactical voting shit is getting on my nerves
Third Place Winner, December 2011 Photo Contest
Legend
2-1 to pele.
---
02/05/2009
Estadio : Santiago Bernabéu
Real Madrid 2 - 6 FC Barcelona
Higuain 14'
Thierry Henry 17'
Carles Puyol 20'
Lionel Messi 35'
Sergio Ramos 56'
Thierry Henry 58'
Lionel Messi 75'
Gerard Piqué 82'
Rising Star
Teams:
NECAXA, Galatasaray, Real Madrid-Manchester United
Andy Christ 2 vs 2 Pele10brazil
---
Quote:
I BELONG TO JESUS
John 3:16 - For God so loved the world, that he gave his only begotten Son, that whosoever believeth in him should not perish, but have everlasting life.
With yayas rise, probably andy has the best midfield in the game.

3-1 to AC
The Ties That Bind
Legend
Close match, but Andy would likely nick this one. Andy's midfield would control the match and both sides are pretty close in terms of firepower up top, but Andy's midfield has more.
---
"Sóm més que un club!"
Forum Manager
International
Andy Christ 3-2 pele10brazil
Currently Active Users Viewing This Thread: 1

(0 members and 1 guests)