Parma 97/98
---
Its back to CM 97/98 for me. I decided to go with Parma, because they had such an awesome squad back then. The db is stuck somewhere between 97/98 and 98/99 seasons of Serie A.
Parma's squad is quite good already from the start of, but I figured I might have to replace the veteran defenders Apolloni and Mussi soon, so I picked up Rio Ferdinand from West Ham for £8.75M. I also promoted Paolo Cannavaro from the B squad to the senior squad. This gives us the following squad
Starting 11 will be
Got off to a somewhat disappointing start on the seasons, as we only managed to score one goal against Serie B outfit Genoa in the second round of Copa Italia, despite creating several chances. Chiesa scored on a free kick about 2 minutes from time.
Then we played 0-0 against Juve at Ennio Tardini.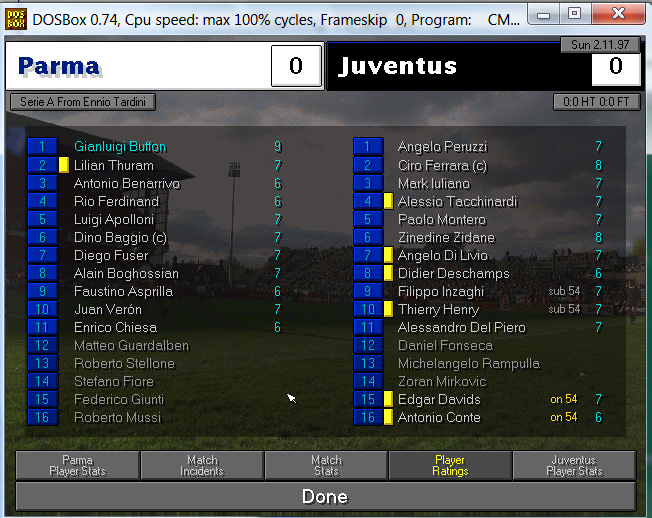 I was playing 4-4-2 flat uptil this, but then I opted for the 4-3-1-2 tactic, and it paid off. Because victories over Milan and Salernitana, plus Lommel (Uefa Cup) followed next. Then we played Roma in a match where both teams had a player sent off, and even though both teams created several chances, the match still ended in a 0-0 draw.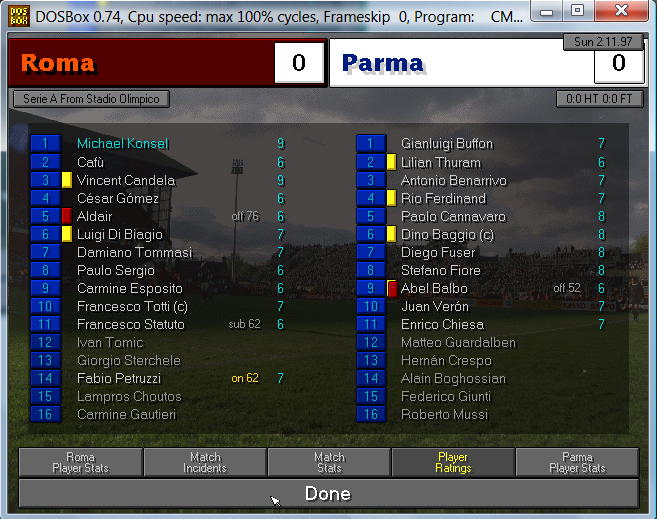 Four consecutive victories in the league, and a victory over Lommel (Uefa Cup) was followed up with a thrilling 0-0 draw against Sampdoria, in a game where both teams had huge chances to take all three points, but somehow Buffon and Rustu (mom, bought from Fener) managed to get a clean sheet.
Victory over Fiorentina followed next, and we are in contention of lo scudetto after 10 matches.
Both Perugia, and especially Bologna are having outstanding season so far, while Milan are barely keeping themselves away from the relegation zone.
I also love this game, but I have to admit, I do miss some of the bells and whistles of the newer editions. Its also strange to start and end matches with no team talk.
Here are some of our recent results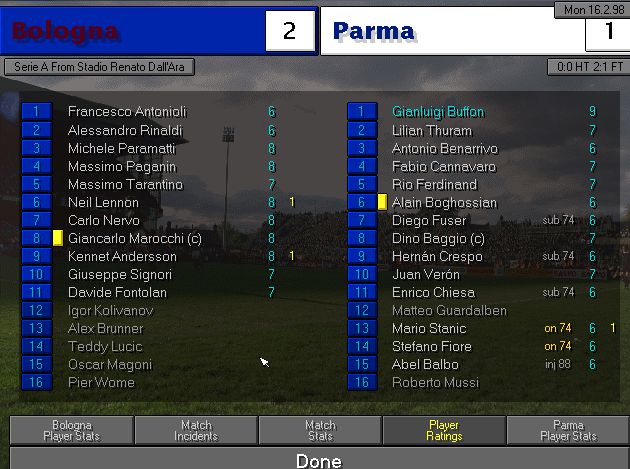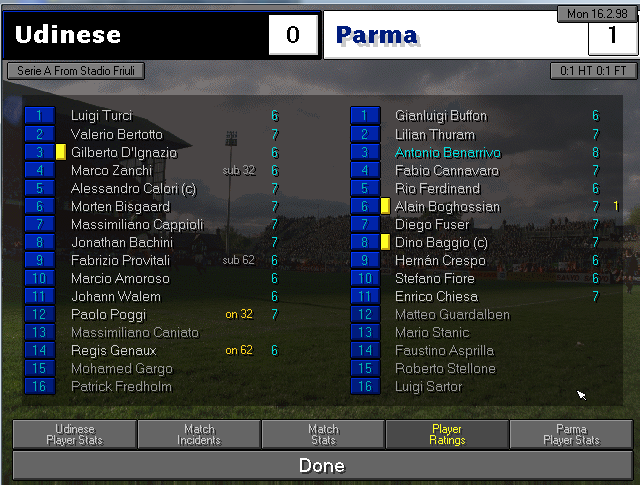 The Italian teams gearing up for the second half of the season
League table with ten matches to go
I still have this somewhere. It was my first version of CM and will always have a special place in my heart. I tried running it again a few years ago, under XP, but it had some problems, and taking screenshots was impossible. But I see you're using a DOS emulator?

That reminds me, when I first began playing CM 97/98, I ran it purely under DOS. Setting up a new game or having the close season calculate took absolutely forever even with just three leagues. I think an hour was about normal. That was back when I still didn't trust Windows to do a good job with games. Yet I eventually gave it a try under Win 98, I believe, and the difference in speed was incredible.
HEY, WHA' HAPPENED?
Xtratime Legend
Teams:
Ross County, Green Bay Packers
Losing to B-logna?
---
Quote:
we need to do something about moral relativism because it's really damaging the air condition. there's alot of harassing going on out there, specially during the night, and they use moral relativism to justify it.
Currently Active Users Viewing This Thread: 1

(0 members and 1 guests)